Houston Police Department
UPDATE: Charges Upgraded in Man's Death at 2408 Ferguson Way
May 18, 2015 - Charges have been upgraded against a suspect arrested in the assault of a man at 2408 Ferguson Way about 4 a.m. on September 14, 2014.

The suspect, Ridgeway Frank (b/m, 43), is charged with murder in the 208th State District Court. A photo of Frank is attached to this news release.

Frank is accused in the death of Fred Miles, 61, of the above address.

HPD Homicide Division Sergeants J. Burton and M. Brady reported:

In September, 2014, Frank assaulted his uncle, Mr. Miles, with a tire iron at the above address. Miles suffered severe head trauma and was transported to Ben Taub General Hospital. Frank was arrested at the scene for aggravated assault. On February 21, 2015 Miles died while in hospice care as a result of his injuries.

The Harris County Institute of Forensic Sciences then ruled the death of Miles as a homicide. Charges of aggravated assault against Frank were upgraded to murder today (May 18). Frank has been in custody since the incident last September.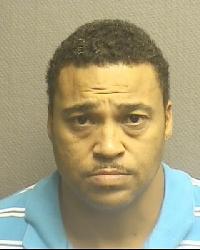 Ridgeway Frank
JKS/JFC 5-18-15
Inc. #116793314
For additional information, please contact the HPD Public Affairs Division at 713-308-3200.