Houston Police Department
Update: Suspect Arrested, Charged in Fatal Shooting at 10000 Fondren
May 29, 2015 - Houston police have arrested a suspect charged in the fatal shooting of a man and the wounding of a woman at 10000 Fondren about 12:45 a.m. on Sunday (May 17).

The suspect, Dresean Holmes (b/m, 21), is charged with murder in the 174th State District Court. A photo of Holmes is attached to this news release.

The victim, Ernest Moore, 21, was pronounced dead at the scene.

HPD Homicide Division Sergeant M.A. Holbrook and Senior Police Officer M. Stahlin reported:

While attending a large pool party at the Chancellors Family Center at 6535 Dumfries, Mr. Moore was involved in a fistfight. When he attempted to leave the party, Moore was followed by the suspect, described only as a black male wearing black shorts and a white tank top, who then shot Moore multiple times. Moore collapsed and died at the scene. A female attending the party suffered a gunshot wound to her leg and was transported to Memorial Hermann Southwest Hospital in serious condition. The suspect fled in an unknown direction.

Further investigation developed information that identified Holmes as a suspect in this case and, on Wednesday (May 27), he was arrested without incident.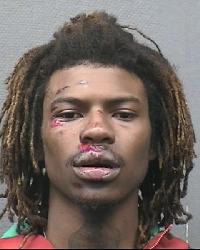 Dresean Holmes
Update: JKS/JFC 5-29-15
JKS/JFC 5-18-15
Inc. #062813915
For additional information, please contact the HPD Public Affairs Division at 713-308-3200.