>
Police
>
News Release
POLICE Department
Surveillance Video of Person of Interest in Fatal Shooting at 2002 Runnels Street
May 3, 2021 - Houston police are asking for the public's help in identifying a person of interest wanted for questioning in the fatal shooting of a man at 2002 Runnels Street that occurred about 1:15 p.m. on Sunday (May 2).

The person of interest is described only as a white or Hispanic male on a Bicycle. Surveillance video of the person of interest can be viewed on the HPD YouTube channel at https://youtu.be/j1QqzEp13dc A surveillance photo of the person of interest is attached to this news release.

The victim is identified as Kristen Askew, 26.

HPD Homicide Division Sergeants M. Holbrook and A. Lopez reported:

Mr. Askew left an apartment at 1900 Runnels Street and walked to a convenience store at the above address to buy some items. Askew got into an altercation in the parking lot and was shot. He was pronounced deceased at the scene. The person of interest is seen leaving the scene on a bicycle.

Anyone with information in this case or on the identity of the person of interest is urged to contact the HPD Homicide Division at 713-308-3600 or Crime Stoppers at 713-222-TIPS.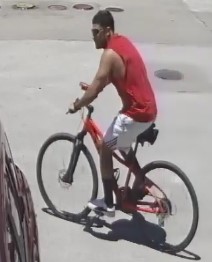 VHS/JKS 5-3-21
Inc. #058195721

For additional information, please contact the HPD Public Affairs Division at 713-308-3200.