Houston Police Department > News Releases
Chief Hurtt Pedals Through the Las Vegas Strip En Route to Lake Tahoe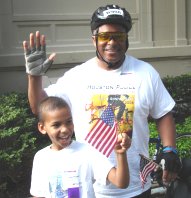 Chief Hurtt with John Purtee (click photo for full size)
June 1, 2005 -- Beginning at 7 a.m. Saturday (May 28), Houston Police Chief Harold Hurtt and nearly 40 HPD officers began a 2,000 mile bicycle relay trip in an effort to raise awareness of the nation's number one child killing disease - Leukemia.
As of today, Chief Hurtt has been pedaling for five days in an effort to raise awareness and funding for the Leukemia and Lymphoma Society. This afternoon, Chief Hurtt and the other team members will be riding through the world famous Las Vegas strip in route to their final destination in Lake Tahoe, California.
This is the 24th year that HPD officers have taken part in what is becoming a cross-country pilgrimage to benefit this worthwhile cause.
Chief Hurtt began this 2,000-mile bike ride on behalf of nine-year-old John Purtee, who is now a third grader and was diagnosed with lymphoma at the early age of five. John underwent a full year of chemotherapy treatments and was given a clean bill when he was six and now remains in remission.
Click here for more information about the HPD Bike Relay Team.
MES/RMM
6-01-05
For additional information, please contact the HPD Public Affairs Division at 713-308-3200.