Art Recycling Trucks Hit the Streets:
Houston's Going Green In Style
In Partnership with Houston Arts Alliance and
City of Houston Solid Waste Management Department Recycling
HOUSTON, TX -
Today, Houston Arts Alliance (HAA) and City of Houston Solid Waste Management Department (SWMD) debut six new Art Recycling Trucks, working City of Houston recycling trucks that have been transformed into mobile artworks by local artists in partnership with HAA.
The innovative Art Recycling Truck project celebrates the City's commitment to "going green," furthers the mission of HAA's Civic Art + Design program and showcases artworks by local artists Pablo Gimenez-Zapiola, CORE Design Studio, Aaron Muñoz, Troy Stanley, Ariane Roesch and Kia Neill.
"An important component of HAA's mission is to expand the reach of local arts beyond gallery and museum walls, " explains HAA President and CEO Jonathon Glus. "The Art Recycling Truck project is, in effect, a museum on wheels. These six mobile artworks will travel greater Houston for an anticipated seven years, bringing art - and City recycling services - to Houston residents. "
In 2013-2014 ,SWMD drastically expanded its city-wide Automated Curbside Recycling program. "When the expansion is complete at the end of this year, the City will be providing single stream recycling to the entire 640-square mile service area, which incorporates approximately 380,000 homes," explains SWMD Director Harry Hayes. "The artwork displayed on the recycling trucks helps draw public attention to the fact that these trucks are utilized in 'repurposing' materials that would otherwise be considered trash. Over the past several years the City has made substantial progress in its recycling efforts and having these trucks in the public arena helps to create awareness and participation in the program."
A panel of professional Houston artists selected six local artists from an open call of applicants to design the Art Recycling Trucks and a smaller work of similar design for the City of Houston Municipal Art Collection. Artists' Recycling truck designs were printed on vinyl panels, then "wrapped" around the City trucks.
The 2014 Art Recycling Trucks and artists are:
Green Dream

by Pablo Gimenez-Zapiola features larger-than-life images of fig ivy, photographed by the artist in Houston's Museum District;

Patterns of Consumption

by CORE Design Studio utilizes x-ray blueprints of recyclable materials in a harmonious mandala pattern to create a visual metaphor of their environmental effects and memory;

Mad Tax Beyond the Astrodome

by Aaron Muñoz imagines the recycling of Houston's Astrodome with post-apocalyptic flare;

Forest for the Trees

by Troy Stanley, whose nostalgic wood grain design is taken from photographs of the artists' scrap wood materials, resembles a wooden toy truck;

I Have a Positive Impact

by Ariane Roesch is a patchwork quilt of recycled materials left over from the artist's previous soft sculpture works;

Recycled City

by Kia Neill employs the trompe-l'œil effect, depicting digitally manipulated photographs of steel I-beams mangled by Hurricane Ike.
In April 2014, the first Art Recycling Truck, Green Dream, debuted at the Mayor's Earth Day Breakfast. The following month, Green Dream and the second Art Recycling Truck, Patterns of Consumption, participated in the Houston Art Car Parade. Once "wrapped" with their design, the Art Recycling Truck vehicles were immediately put to work, collecting recyclable materials from Houston residents' homes.
ABOUT ART RECYCLING TRUCK ARTISTS
GREEN DREAM

- Pablo Gimenez-Zapiola primarily experiments with projections, overlapping, repetition, animation, serialization, long exposure, collage, assemblage, and image rearranging techniques. Gimenez-Zapiola's is Houston-based, international artist based with past exhibitions in Argentina, Hong Kong, the United Kingdom, Los Angeles, Chicago, and Houston.

PATTERNS OF CONSUMPTION

- CORE Design Studio is a Houston design, art, and communications studio founded in 1995 by Fiona McGettigan and Alan Krathaus. The studio focus is in commissions of print, web, exhibit, environmental, and multimedia design, as well as public art projects, using a variety of materials and media types. CORE's client base includes cultural, non-profit organizations, educational and architectural offices, and urban planning groups.

MAD TAX BEYOND THE ASTRODOME

- Aaron Muñoz was born in 1982 in central Texas. He received his BFA from Texas State University in 2006 with a concentration in photography, focusing on alternative photo processing. In 2010, Muñoz received his MFA at the University of Texas at San Antonio with a concentration in painting and screen printing. Muñoz's work has been exhibited in throughout Texas including Austin, Dallas, Houston, and San Antonio, and also internationally in Wels, Austria.

FOREST FOR THE TREES

- Troy Stanley is a sculptor currently living and working in Houston, Texas. Upon receiving his degree in sculpture from the University of Houston in 2005, Stanley began his professional career with a solo exhibition at Lawndale Art Center in Houston. In 2007 he attended the prestigious residency at the Skowhegan School of Painting and Sculpture in Maine, and shortly after attended the Kimmel Harding Nelson Center Residency in Nebraska.

I HAVE A POSITIVE IMPACT

- Ariane Roesch creates mixed media sensory experiences, questioning the physical and psychological structures that make up our everyday. Her past exhibitions include soft sculptures, light installations, ink drawings, and ukulele performances, among other mediums. Roesch is the founder of UNIT, co-founder of SKYDIVE art space, and Assistant Director and Office Manager of Gallery Sonja Roesch, and adjunct professor of photography at the University of Houston. Roesch's work has been exhibited in Amsterdam, Zurich, New York, California, and in San Antonio, Galveston, and Houston, TX.

RECYCLED CITY

- Kia Neill received her MFA from The University of California, San Diego, is a Museum of Fine Arts Houston Glassell School of Art faculty member, and Houston Community College adjunct professor. Neill's work is in the permanent collections of the International Airport of Houston and of The Woodlands High School Art Trust. Her 2013 exhibitions include a solo exhibition at The Jung Center, a two-artist show "Striations" at G Gallery, Lawndale Art Center's "The Big Show 2013," and "Disturbance of Distance 3" at Box 13 Art Space..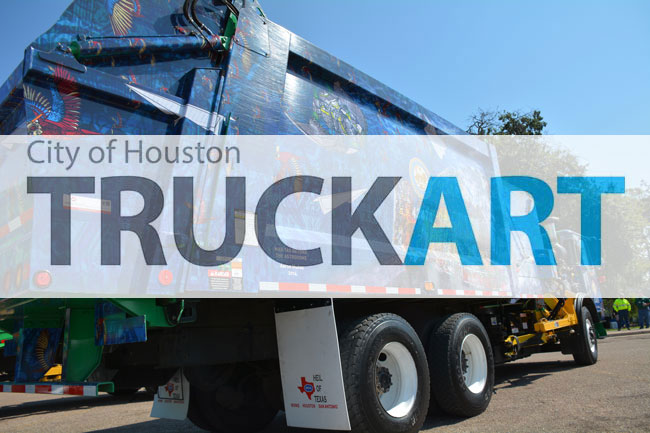 ABOUT THE HOUSTON SOLID WASTE MANAGEMENT DEPARTMENT
The Solid Waste Management Department provides solid waste services to the residents of Houston through the collection, disposal and recycling of discarded material in a manner that is safe, efficient, environmentally sound and cost-effective. For more information about the City of Houston Solid Waste Management Department and its services, please log on to www.houstonsolidwaste.org, follow us on twitter @houstontrash or like us on facebook at https://www.facebook.com/houstonsolidwaste.
ABOUT HOUTON ARTS ALLIANCE
Houston Arts Alliance (HAA) is a nonprofit organization established by the City of Houston to enhance the quality of life and tourism in the Houston region by advancing the arts on its behalf. HAA distributes grants to more than 225 nonprofit arts organizations and individual artists each year. In addition, HAA invests in and nurtures Houston's thriving creative community by commissioning the work of artists for public spaces, managing the city's civic art collection, showcasing Houston's rich folklife traditions, cultivating business volunteers, and empowering arts organizations to become sustainable and reach new audiences through business incubation and other services. For information on Houston-area arts and culture events, visit HAA's online resources at Artshound.com. For more information on HAA, visit houstonartsalliance.com.