>
Houston Business Portal
>
Start A Business
>
Starter Kits
> Nursing Home
Start A Business
Starter Kits -- Nursing Home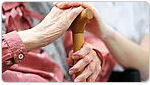 Explore our starter kits for some of Houston's most common business types and jump start your path to success.
Business Requirements
coming soon
IMPORTANT!!
THE CITY OF HOUSTON ASSUMES NO RESPONSIBILITY FOR YOUR FAILURE TO OBTAIN ALL NECESSARY OPERATING PERMITS, LICENCES, OR FAILURE TO COMPLY WITH ALL APPLICABLE GOVERNMENT REGULATIONS.