October 18, 2023
OCTOBER IS NATIONAL CODE COMPLIANCE MONTH
Code compliance is the key to safe, clean communities
The City of Houston joins communities across the country in the observance of 2023 National Code Compliance Month, which recognizes the work done by City employees, contractors, and residents to keep our communities safe. The annual observance also promotes public awareness of the important role residents and property owners play by maintaining their property in compliance with city codes.
City code enforcement officers can be found in several City of Houston departments, including the Department of Neighborhoods (DON), Houston Public Works (HPW), and the Houston Fire Department (HFD). They are tasked with inspecting residential and commercial properties, streets, and sidewalks. Their duties include identifying and removing safety hazards, nuisances, unhealthy conditions, and other city codes violations. Code enforcement officers are the face of the city in the field, providing information and guidance to property owners and residents to ensure they remove hazards and attain full code compliance.
The Department of Neighborhoods' (DON) Inspections and Public Service division conducts single-family dwelling residential code enforcement and responds to neighborhood complaints pertaining to overgrown lots, dangerous buildings, trash and junk accumulation, and inoperable motor vehicles on private residential property. Annually, DON code enforcement teams service an average of 31,940 requests for inspections received from residents. www.houstontx.gov/ips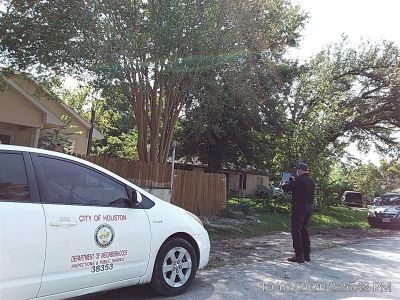 Houston Public Works code inspectors review, inspect, and issue permits for more than 30,000 projects each year. They ensure buildings, streets, drainage systems, sidewalks, signs, and water and wastewater connections are built to the minimum standards of the codes. www.houstonpermittingcenter.org/building-code-enforcement
The HFD's Fire Marshall's Office has primary responsibility for reducing community risk through Life Safety Bureau fire inspections, with over 27,000 inspection activities completed annually and support plan review processes related to access, alarm systems, and fire protection systems. The office prioritizes fire code compliance and occupancy safety to ensure the wellbeing of our community. www.houstontx.gov/fire/HFMO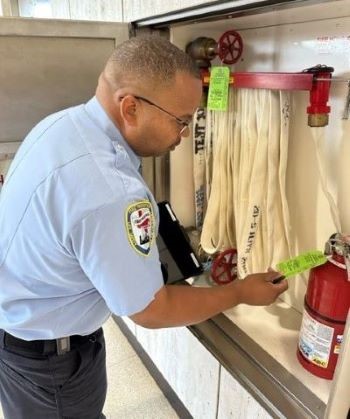 Report Code Violations!
The City relies on the community to help identify potential code violations and safety hazards. The City of Houston 311 Help & Information platform makes it easy, quick, and convenient for residents to report non-emergency issues and request services. Residents can create a service request via a smart phone app (Apple and Google), via the Web portal via the Virtual Agent, or by calling 311 or (713-837-0311).