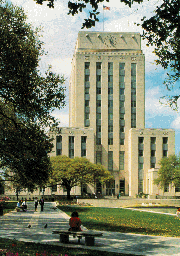 On March 20, 1903, the Texas legislature passed legislation that allowed for the creation of the City of Houston Office of the City Controller.
While most cities have some agent that oversees its finances, few have a popularly elected City Controller and one who has as much independence and authority as does Houston's City Controller. Nor do other similar entities combine politics and professionalism to the extent Houston's Office of the City Controller does.
Recent Controllers have broadened the scope of the office beyond bookkeeping, taking on issues that are more political. Each Controller has worked to control spending and eliminate that which is deemed unwise or unnecessary, even if such elimination has meant extended and difficult battles with the other branches of government.
Recent Controllers:
Leonel Castillo, 1972-1977
Kathryn Whitmire, 1978-1982
Lance Lalor, 1982-1988
George Greanias, 1988-1996
Lloyd Kelly, 1996-1998
Sylvia Garcia, 1998-2002
Judy Gray Johnson, 2003
Annise Parker, 2004-2009
Ronald Green, 2010-2015
Chris Brown, 2016-