Cultural Affairs Office
Press and Communications
Mayor Turner: 95th Season of Miller Outdoor Theatre Performances Marked by $1.3 Million in Grants and 95 Performances
March 15, 2018 -- Mayor Sylvester Turner announces the approval of $1.3 million in grants, awarded through Miller Theatre Advisory Board, for 31 local nonprofit organizations to present 95 performances at Miller Outdoor Theatre during the 2018 season.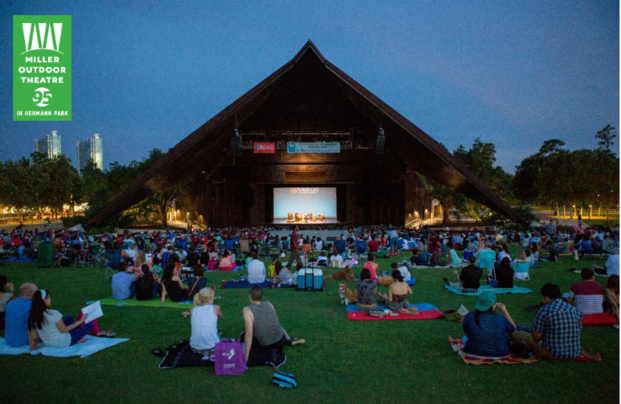 Celebrating the 95th year in Hermann Park, the season opens Friday, March 16, at 8 p.m. with a performance of VOLO by Diavolo│Architecture in Motion, an "America's Got Talent" sensation that delivers an edgy mix of dance, gymnastics and athletics.
"Miller Outdoor Theatre excels in providing quality performances for residents and visitors that truly reflect our city," stated Mayor Sylvester Turner. "It's already the most attended amphitheater in the country, but now in celebration of the 95th anniversary, I invite every Houstonian to join me in attending at least one performance with a guest and setting an all-time attendance record. And don't forget to share your selfie with #CelebrateMiller."
Miller Theatre is the only outdoor proscenium theatre in the United States that offers, free of charge, an annual season of artistically excellent and culturally diverse professional performances. The long-standing partnership between the City of Houston, Miller Theatre Advisory Board and the grantee organizations is unique in the nation.
Each organization that receives a grant must provide matching funds, thus leveraging public dollars with private funds to create the free season. This public/private partnership makes an enviable variety of outstanding performances available to all Houstonians and visitors in a beautiful and fun setting at no charge.
"Since it was established in Hermann Park in 1923, Miller Theatre has been a treasured gathering spot for millions of those who call Houston home," stated Executive Director Cissy Segall Davis. "It is an honor to build on that rich legacy as this beloved venue moves towards its centennial. We are grateful to Mayor Turner and City Council for their continued support of Miller Outdoor Theatre and we encourage everyone to meet the Mayor's challenge during our 95th anniversary season!"
The thirty-one local organizations receiving grants, following a thorough review process emphasizing artistic merit, community outreach, cultural tourism impact and administrative ability, will provide a range of performances on the Miller stage including the daytime children's series to evening programs for suitable for all ages.
Funding for this grant program and others are provided by the City of Houston utilizing Hotel Occupancy Taxes.
Details on the upcoming season can be found at milleroutdoortheatre.com.
Below is a list of grant recipients:
AD Players
Ambassadors International Ballet Folklorico
Asia Society Texas
Bacement Foundation for the Arts
Dance of Asian America
Diaz Music Institute
Express Children's Theatre
Festival Chicano
Foundation for Modern Music
HGO Opera To Go
HITS
Houston Ballet
Houston Grand Opera
Houston Symphony
Houston Young Artists
Indian Performing Arts-Samskriti
Institute of Hispanic Culture Houston
Mercury
METDance
Odissi Academy
River Oaks Chamber Orchestra
Silambam Houston
Society for the Performing Arts
Stages Repertory Theatre
Texas Folklife Resources
Texas Medical Center Orchestra
Theatre Under the Stars
TUTS Humphreys School of Musical Theatre
University of Houston Shakespeare Festival
Windsync
Young Audiences of Houston
For more information on the City's cultural programs, go to www.houstontx.gov/culturalaffairs or follow the Mayor's Office of Cultural Affairs on Facebook @HoustonMOCA.