Cultural Affairs Office
Press and Communications
Mayor Turner, Houston Public Library, and Mayor's Office of Cultural Affairs Announce Search for Houston's Next Poet Laureate
January 13, 2021 -- Mayor Sylvester Turner and the Director of Houston Public Library (HPL), Dr. Rhea Brown Lawson, are pleased to announce the search for the City of Houston's next poet laureate.
The Poet Laureate Program celebrates Houston's rich culture and diversity through the work of a Houston poet who serves as the City's ambassador for the literary arts. The Houston poet laureate's role is to stimulate poetic impulse, foster appreciation of poetry in all its forms, and serve Houston residents and visitors with expressions of culture through words.
"Right now, perhaps more than ever, Houston needs the power of community offered through written or spoken word poetry," said Mayor Sylvester Turner. "We look forward to finding and announcing our City's fifth poet laureate, whose words will bring us together in spirit and inspire us to be resilient in the coming years."
The City's next poet laureate will serve from April 2021 through April 2023 and receive an honorarium of $20,000 from the City of Houston's City Initiative Grant Program. The program is coordinated by the Mayor's Office of Cultural Affairs (MOCA) and HPL. The Poet Laureate Program is funded through the Hotel Occupancy Tax that is dedicated to the arts.
"The Houston Public Library is so pleased to partner with the Mayor's Office of Cultural Affairs again to welcome Houston's next poet laureate. We have so many Houstonians who are passionate about poetry and community, and we encourage them to submit their poetic works to support our effort in celebrating Houston's diversity and elevating this art form," said Dr. Lawson. "It's a great opportunity, especially during these challenging times, to have this citywide platform for poets to share not only their invaluable talent, but also their voice."
During a two-year appointment, the poet laureate makes several guest appearances at special events and completes a feature project. Houston's most recent poet laureate, Leslie Contreras Schwartz, created Bayou City Broadsides, which are one-page artistic displays of lines from poems of everyday Houstonians. Houston's 2017-2019 Poet Laureate Deborah "D.E.E.P." Mouton created community performance poetry videos highlighting various Houston neighborhoods. Houston's 2015-2017 Poet Laureate Dr. Robin Davidson developed an anthology book of Houston residents' favorite poetry, and Gwen Zepeda, Houston's 2013-2015 poet laureate, created the Houston Poet Laureate's social media platforms.
The Houston Poet Laureate Selection Committee, a diverse group of poets, scholars, literary experts, and community representatives, will assist in the selection process. The group includes all poets laureate emeritus Gwen Zepeda, Dr. Robin Davidson, Deborah "D.E.E.P." Mouton, and Leslie Contreras Schwartz; Radu Barbuceanu of Visit Houston; Dr. Ginger Ko of Sam Houston State University; Jennifer Julian of Texas Southern University; Roderick Robinson of Public Poetry; and Harrison Guy of the Fifth Ward Cultural District. Non-voting members include Monique Mogilka of the Mayor's Office of Cultural Affairs (MOCA) and Carmen Abrego of the Houston Public Library (HPL).
The selection committee will interview finalists in March, and Mayor Turner will select the winner. The City will announce Houston's next poet laureate in Apil to celebrate National Poetry Month.
The deadline to apply is midnight on February 25, 2021. Submissions are welcome from poets, authors, writers, and spoken word artists.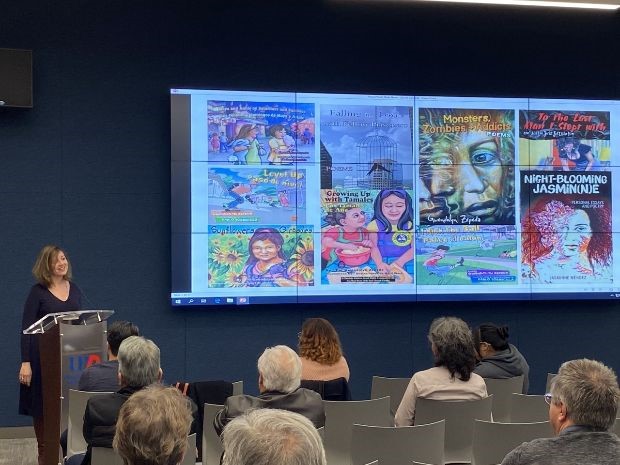 The guidelines and application portal for the Houston Poet Laureate and term requirements can be found at https://www.houstontx.gov/poetlaureate.html.
For more information about the Houston Public Library, visit www.houstonlibrary.org, Twitter @houstonlibrary, or call 832.393.1313.
For more information about the City's Cultural Programs, visit www.houstontx.gov/culturalaffairs or follow the Mayor's Office of Cultural Affairs on Facebook or Instagram @HoustonMOCA.