Cultural Affairs Office
Press and Communications
Join Mayor Turner in Global Make Music Day Celebration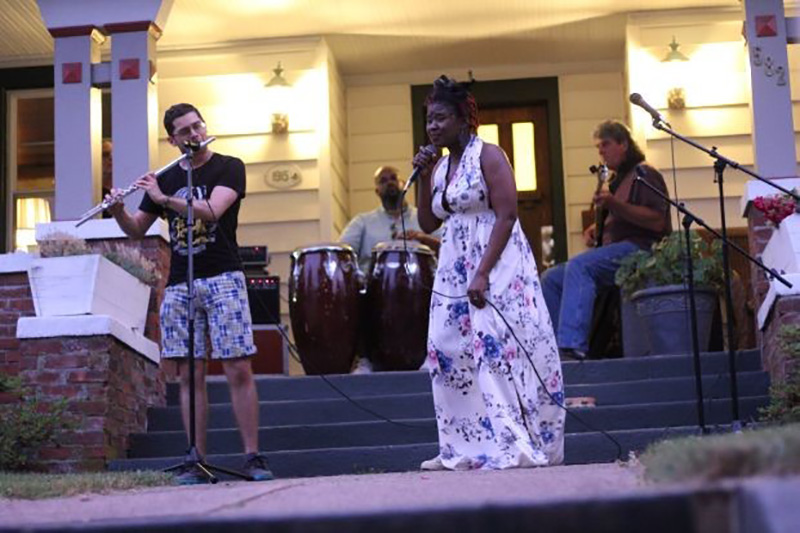 May 7, 2021 -- Mayor Sylvester Turner and the Mayor's Office of Cultural Affairs (MOCA) announce the launch of global Make Music Day in Houston on Monday, June 21, 2021. The participatory celebration will take place on the summer solstice.
Make Music Day (MMD) encourages people of all musical abilities to celebrate the joy of making music. Over 90 U.S. cities will participate in MMD 2021, further demonstrating the power of music to unite and uplift people, spread joy and build community.
The celebration reflects each city and features national programs, free performances, neighborhood serenades, patio and park music lessons, jam sessions, and music everywhere.
"Music brings people together. Plus, Houston is home to many talented renowned, and grassroots performers. I am very pleased that the international roster for Make Music Day 2021 will include Houston," said Mayor Turner. "I invite all Houstonians, of all musical abilities, to join in their way and safely bring music to their neighborhoods, offices, and communities on this celebratory day of music."
Make Music Day began in France in 1982 as the Fête de la Musique and has spread to over 1,000 cities across 120 countries. On this first year of Make Music Day, Houston is partnering with the French Consulate. More than half of the countries represented by Houston's Consular Corps participate annually in the global event.
Following the Houston CARES About Music relief program, the Mayor's Office of Cultural Affairs (MOCA) seeks new ways to support Houston's music industry. MOCA will partner with the Houston Professional Musicians' Association (Houston's local chapter of the American Federation of Musicians) for this global event.
"Throughout the last year, the cultural community, including musicians, have brought joy and beauty into our homes," said Necole Irvin, Director of Cultural Affairs. "We are excited to see the breadth of music and celebratory experiences across our numerous neighborhoods via the universal language of music."
"Local 65-699 is thrilled to be partnering with the Mayor's Office of Cultural Affairs, the Music Performance Trust Fund, and the Make Music Alliance in launching Houston's first year as a participant in the global Make Music Day," said Alex Navarro, President of The Houston Professional Musicians' Association. "Needless to say, it has been a challenging year for all, and sadly, the arts has been an industry that has suffered severely, but this musical celebration provides a vehicle to get our Houston musicians performing again and allows an opportunity for Houstonians to support the arts and their local musicians as they've consistently done. We are thrilled to be rolling up our sleeves along with these other great organizations and our Mayor's Office to MAKE MUSIC!"
The city encourages all Houstonians to join Mayor Turner, our Consular Corps, Bun B, Houston Public Library, Buffalo Bayou Partnership, Houston Symphony, Arts Connect , Houston Botanical Gardens, Arts District Houston, East End Cultural District, Midtown Cultural Arts & Entertainment District, Fifth Ward Cultural District, and many more and add your event to https://www.makemusicday.org/houston. The website also provides opportunities for locations and venues to match with musicians.
Go ahead and create a profile and let's get the matchmaking started and the calendar full as Houstonians join cities across the globe in continuing to get vaccinated and preparing to celebrate the summer solstice. Another resource on the website is a poster generator to promote your event (whether live or virtual).
National Make Music Day projects include:
Flowerpot Music — A new collection of pieces by composer Elliot Cole and directed by percussionist Peter Ferry features an unlikely but beautiful percussion instrument: the flowerpot. People in cities across the U.S. will join together safely to debut "Flowerpot Music: Make Music Day book."
Junkophonics — Learn how to build and play fun musical instrument that you create from found objects. Participants can get tips from Bash the Trash Environmental Arts performers and educators as well as instrument builder extraordinaire Craig Woodson. Junkophonics Workshops are being held nationwide. Houston Public Library is hosting "Spasm Bands to Spike Jones : Homemade Instruments in Pop Culture." In this unique performance/lecture, HPL will trace the amazing history of homemade instruments and how they helped invent Jazz, invaded radio and Hollywood, and came to fame on early television.
Mass Appeal — People of all ages and skill levels will join together both online and in physically distanced, in-person settings to make music in large, single-instrument groups.
And many more!
On June 21, MOCA invites folks to post pictures of their events using the hashtag #MakeMusicDay and tagging @HoustonMOCA. A full schedule of events will be posted at https://www.makemusicday.org/houston.
About Make Music Day
Make Music Day is presented by the NAMM Foundation and coordinated by the non-profit Make Music Alliance. For more information, please visit www.makemusicday.org.
Mayor's Office of Cultural Affairs
Learn more at www.houstontx.gov/culturalaffairs and follow us on Facebook & Instagram. Find fun stuff on Houston's Cultural Events Calendar.