Cultural Affairs Office
Press and Communications
Mayor's Office of Cultural Affairs Awards $52,150 to Digitally Innovative Arts and Cultural Works
March 16, 2023 -- The City of Houston Mayor's Office of Cultural Affairs (MOCA) is awarding $52,150 in grants to 21 individuals and nonprofit organizations whose work activates the digital realm using streaming services, virtual reality, and digital curation to deliver a range of artistic experiences, manifested as live concerts, theatre performances, and literary concepts.
"It is exciting to see the many diverse projects our artists are doing in Houston," says Mayor Sylvester Turner. "We are proud to support them and their work that will enliven the daily lives of Houstonians and visitors alike anywhere they are through the digital realm. I congratulate and wish these artists good luck in their endeavors to add to the creative economy of the city."
The funds were awarded through Let Creativity Happen, a competitive grant program that is administered by Houston Arts Alliance (HAA) and funded by a portion of the city's Hotel Occupancy Tax (HOT). The program opened four times in 2022 and offered grants for arts and cultural experiences that use technology to connect audiences beyond the physical boundaries of space.
The latest Let Creativity Happen grantees will create the following works:
Aexandra Lechin
"[This is] A performance piece wherein I display a visual representation of living with mental diseases. I will fabricate 5,000 marbles out of porcelain and obsidian clay, fired, giving the final look of black and white marbles. I will do a looped durational performance of my self-spilling the marbles and laboriously collecting all of them and then spilling them again. Like Sisyphus pushing a rock up a mountain endlessly, living with ADHD, depression, bipolar disorder, an eating disorder, PTSD, or anxiety means collecting your marbles every day."
Arie Bouman
"'In Good Company' is a series of three, long-form, online interviews/conversations/dialogues with Houston visual artists. Using the format of a long-form television interview program, IGC allows the time and space for deeper investigation than a standard online artist talk of the type that are ubiquitous since the start of the pandemic. Zoom, which once held the promise of connection, now seems to magnify the distance and separation. IGC seeks to reconnect with the audience by giving them a virtual seat "at the table", where they can listen in to an intimate conversation between two artist friends."
Dawn Reavis Martin
"Dawn Reavis is the writer and producer of The Art of Eternal Love, a sci-fi drama with a surprising twist. Dawn is a 2022 MFA graduate of HBU and a SAG actor who appears most recently on Queen Sugar. This is the second film she has produced but this time she also plans to direct. Based on The Birthday Club, her first film, the short will have a theatrical release and a festival run."
Deniz Lopez
"Poet Deniz Lopez invites you to an intimate poetry reading featuring notable established and up-and-coming poets from around the country. Experience an intimate 'storytelling' poetic experience with 1 featured poet, light bites, and libations at the All Real Radio studio. We plan to start our poetic journey by featuring Houston -Area poets and expand over the next 6 months. Our events will be live streamed via our airwaves at www.allrealradio.com, our app, and all the other ways you can listen to All Real Radio."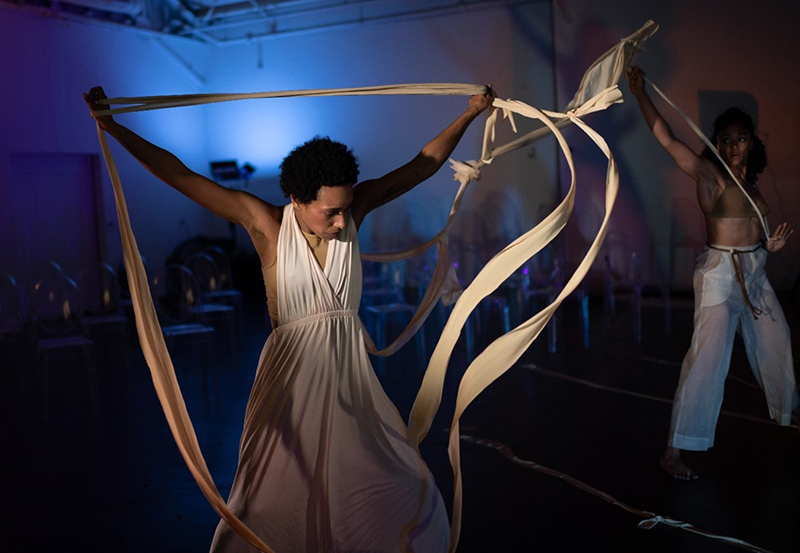 Donna Crump
"Grace Under Pressure is an immersive, multi-disciplinary experience including film, dance, photography, and audience participation at Sanman Studios in Houston, TX, on March 2023 at 7:30 pm. This installation is 2 of 3 parts of the work in progress, Gend[H]er which examines the reversal of gender roles' portrayal through society's stereotypes in the workforce and in the home amidst the pandemic. It studies feminine energy on a deeper level examining Octopuses as a female archetype and female mental and reproductive health. The goal is to create connection and awareness while making safe and accessible art for all"
Ha Na Lee
"Shadow of Sounds is a multimedia visual and sound performance that aspires to create a contemplative space through artwork. The artwork invites audiences to enjoy an enhanced landscape, with meditative and textural sound, to move and breathe and be in the present moment. The performance will be showcased early evening of October 2023 at Houston city park."
Jaylin Vinson
"The project includes writing an original 15 - 20-minute operatic retelling of an African mythological folktale with an educational, interactive presentation. The intent of this project is to bring opera and this method of storytelling to audiences that would not be exposed to nor have ready access to programs of this type. Venues included Project Workshop, Alta Arts, and Project Row Houses. All performances will be between April 23rd - May 6th."
Keda Sharber
"UNBOUND is a series of 5 short documentaries that explore what it means to reject limiting beliefs and embrace a life of possibility. Each film introduces viewers to a diverse array of Houston residents who are shattering stereotypes in 1) family & relationships, 2) career & education, 3) arts & entertainment, 4) community & culture and 5) health & wellness. Fine art portraits will be created of each film subject for exhibition and an online gallery as an accompaniment to the films, which will be screened in person and made available online. The screenings, exhibit, and talkbacks will occur monthly from May-September 2023."
Leslie Gauna
"This project's goal is to narrate and share the complex experience of immigration. We solicit funds to publish an anthology consisting of twelve short stories. We are a group of writers from different Latin-American regions that call Houston home. The need to express ourselves in our original language to the vast diaspora of Spanish-speaking people also affirms a language that has been part of U.S. history. The goal is to showcase the wide spectrum of emotions, feelings, values, culture, and tensions that is implied in the universal act of moving from one place to another."
Loop38
"Loop38 will record and digitally premiere "Glitter, Doom, Shards, Memory," the third string quartet by Pulitzer Prize-winning composer Shulamit Ran. This work was inspired by the life and works of Matthew Nussbaum, a German-Jewish painter who perished at age 39 in the Holocaust. The recording will be live streamed in an interactive digital event that memorializes the victims of war and oppression and highlights the important role of music and art in society."
Lotus Bermudez
"I want to create a series of sculptures that will be the world's largest clay tools that will be displayed outside at my studio, Third Coast Clay, visible to the public. This project is to celebrate the ceramics arts community in Houston that I have joyously been involved with for over 26 years. The process will be documented and shared online as well as in person."
Magnolia City Brass Band
"'Houston's Brass Band Composer!' will feature works of great brass band composers: The United Kingdom's Philip Sparke and Malcolm Arnold, as well as Houston's Dr. William Brusick. This will demonstrate that Brusick's works are of the musical stature of the finest British compositions. This free and open concert will take place at Houston's own Trinity Klein Lutheran Church as part of their concert series. This event will be recorded and presented in an online stream several weeks after the performance. Additional content will be created for this stream including conductor narration, interactive audience questions, and composer interviews."
Melissa Aytenfisu
"My project is to paint a hopscotch at Riverside Park in Third Ward. Over the last three years, a civic group has formed called 'Friends of Riverside Park' and they have been hosting successful events at the park that I enjoy attending with my two small children. I plan to paint my hopscotch during the 'spring festival 2023' hosted by the civic association at the park, which last year drew hundreds of participants."
Misha Penton
"Solstice Songs is a three-song and music video release from Misha Penton for the summer solstice 2023, released digitally and in collaboration with Memorial Park Conservancy. The songs explore the relationships between music, poetry, sound, nature, contemplative practices, and well-being. (Multidisciplinary: music composition, performance, recording, film production)."
Musiqa
"Diabelli 200 Explorer is the interactive website accompanying Anthony Brandt's February 24-25 premiere of "Diabelli 200", commissioned by Performing Arts Houston for their New/Now performance series. The virtual component explores the historic and neuroscience inspiration behind this new work, which is being developed in collaboration with University of Houston neuroscientist Dr. Jose Luis Contreras-Vidal. Diabelli 200 Explorer will take listeners on a journey through this new work, allowing viewers to select options to learn more about the ideas behind the music."
Nia's Daughters Movement Collective
"'The Fairytale Project' was created by Stacey Allen to show families and children in the United States' most diverse city stories about themselves. As a continuation of this mission- Discovery Green and Nia's Daughters Movement Collective collaborate again to present "Shorts in Color". "Shorts in Color" showcase a curated selection of diverse local filmmakers and creatives who create positive and empowering work for families to enjoy. This will take place in April 2023 at Discovery Green as part of their 15th year anniversary."
NobleMotion Dance
"On the heels of wild success for recent dance film Pit Stop, which has won two awards and been featured internationally in ten film festivals and counting, NobleMotion Dance is looking for support for the creation of a dance film Couplet. Couplet is a heartfelt, fiercely intimate duet created for the stage in 2018 by Andy Noble. For this project, a team of artists wish to situate the duet against the vast open sky of the Texas plains to highlight the strength and beauty of the relationship. Seven Spurs Ranch has welcomed the project for filming."
Reyes Ramirez
"The Houston Artist Speaks Through Grids (THASTG) is a digital exhibition featuring visual, literary, informational, and educational works bound by one theme: grids. In addition to THASTG is the Pylon Project where Houston writers, artists, and thinkers will interpret pylons, the signs at business centers, through a creative lens whose results will be accessible online and in print. The purpose is to expand upon how businesses, lack of zoning, and the clashing of images and words are part of our collective imagination, something Houston artists and writers can draw from and interpret for a unique series of literature and art."
Shabach Enterprise
"Shabach Enterprise intends to offer a new artist workshop series opened to art enthusiasts of theatre, music, film, and poetry. In contrast to previous years, our 2023 workshops will 1.) Broaden the spectrum of artist support and special interests, 2.) Offset the cost of venue rentals and workshop facilitators, and 3.) Provide virtual (digital) access to global attendees."
Shannon Murray
"Sister Schwester is both a live and virtual experience through music and film that connects Houston with sister city Leipzig to promote and nurture this partnership and to bring cultural awareness to both communities. With one artist in Houston and the other in Leipzig, the two will perform together through low-latency live stream technology. The performing artist abroad will be projected so the audience will witness both performers in real-time: one virtual, one "real."
Troy Scheid
"PAPER OFFERINGS, now in its third season, is a story of family history and mysterious happenings, set in Vietnam and Houston. This serialized theatre piece for family audiences uses a combination of written storytelling through "snail mail" and short films. PAPER OFFERINGS draws on Vietnamese and Asian folklore, immigrant experiences, and food traditions to create a story that audiences of all ages can enjoy, using all their senses!"
The digital focus of the grant program provides an opportunity for innovation that opens Houston's vibrant arts and cultural community to a global audience. Additionally, online- platforms break down accessibility barriers, increase interest among audiences, and invite experimentation on a large scale. Most importantly, this digital focus facilitates the reimagination of these important cultural contributions beyond traditional structures.
For more information on past grantees, click here. To see upcoming events from previous or the latest 2023 grantees, visit the frequently updated Cultural Events Calendar.
Artists and creatives interested in applying to "Let Creativity Happen!" to support their arts and cultural work should apply to the 2023 Grant Cycle launching on April 1st.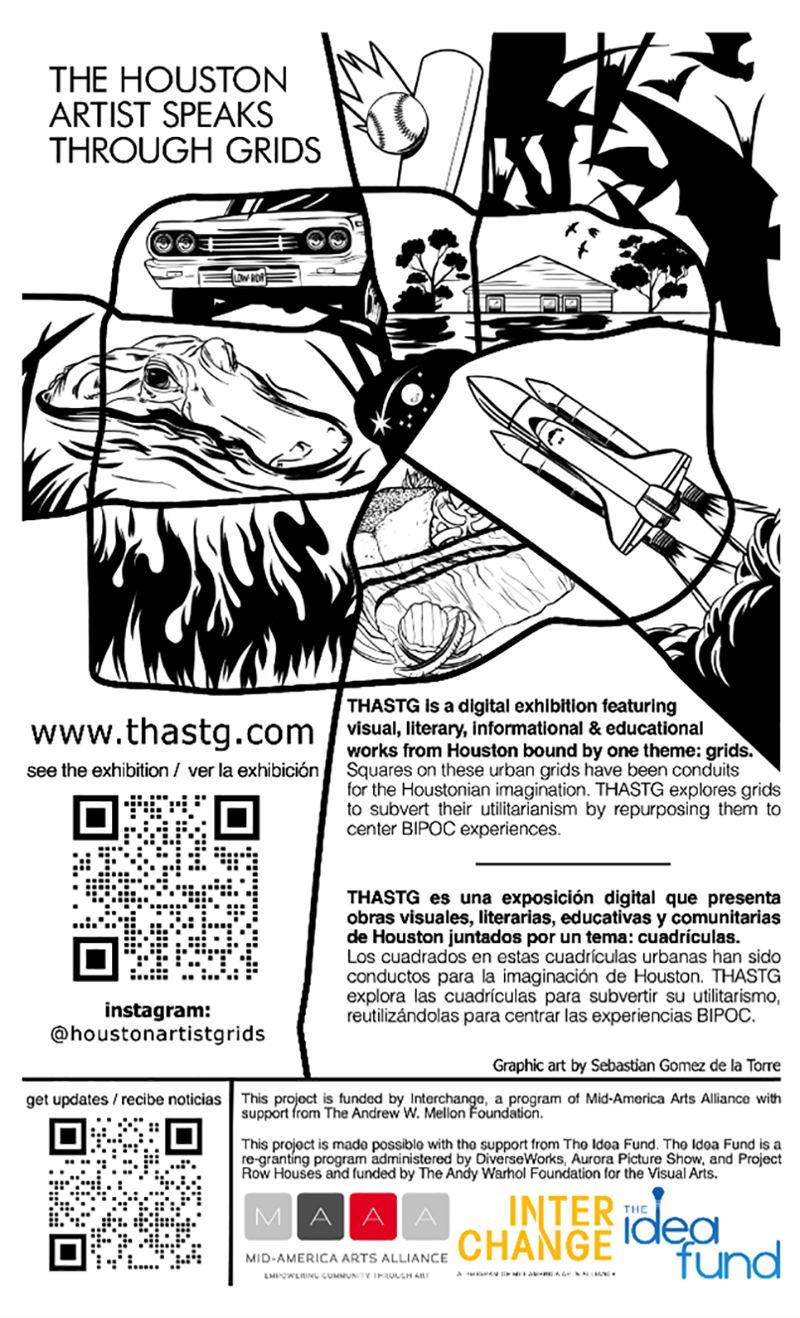 About the Mayor's Office of Cultural Affairs
The City of Houston Mayor's Office of Cultural Affairs guides the City's cultural investments with policies and initiatives that expand access to arts and cultural programs in the community, attract visitors and leverage private investment. Learn more at www.houstontx.gov/culturalaffairs and follow us on Facebook & Instagram @HoustonMOCA.
About Houston Arts Alliance
Houston Arts Alliance (HAA) is a local arts and culture organization whose principal work is to implement the City of Houston's vision, values, and goals for its arts grantmaking and civic art investments. HAA's work is conducted through contracts with the City of Houston, overseen by the Mayor's Office of Cultural Affairs. HAA also executes privately funded special projects to meet the needs of the arts community, such as disaster preparation, research on the state of the arts in Houston, and temporary public art projects that energize neighborhoods.
In short, HAA helps artists and nonprofits be bold, productive, and strong.
To learn more about HAA, visit www.houstonartsalliance.com and follow us on Facebook & Instagram @Houstonartsalliance.