Cultural Affairs Office
Press and Communications
New Montrose Library to Feature Artwork from Houston Artist "Kill Joy"
May 18, 2023 -- The City of Houston Mayor's Office of Cultural Affairs(MOCA) is pleased to announce its commission for artwork from Houston-based, Filipino-American artist "Kill Joy," who will create a permanent, site-specific artwork for the new Montrose Library.
Entitled Spirit of Montrose, the artist's commission will result in a mural, sculpture, and light piece inspired by the history of the Montrose neighborhood and will be a central feature of the Houston Public Library's new Freed-Montrose Neighborhood Library in the Montrose Collective.
The new library space, which will replace the existing library location at 4100 Montrose will feature reading areas, technology access, children's and teen area, and meeting spaces.
"The artwork being the centerpiece of the new Montrose library location highlights the Houston Public Library's commitment to storytelling in all forms and mediums, as well as the City's commitment to sharing uplifting experiences through art," said Houston's Mayor Sylvester Turner, "and it's great to see another dynamic mural be added to the City's Civic Art Collection."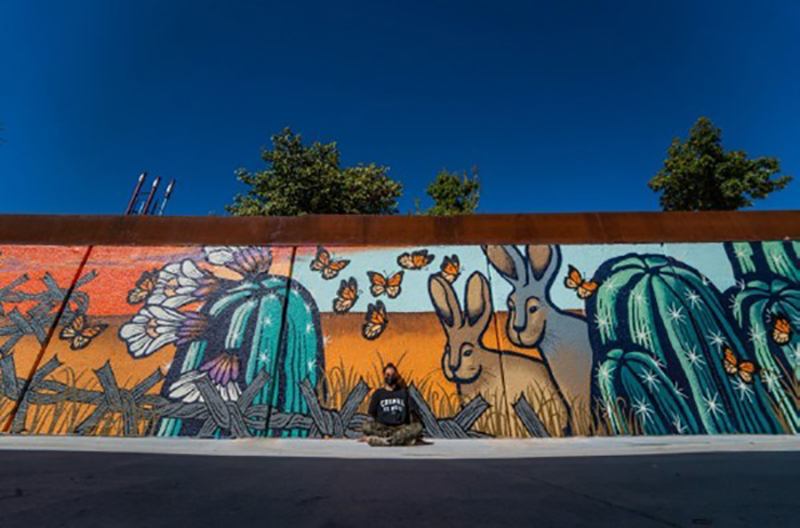 "Libraries are sacred. They are a gathering space that imprints local stories and connects people to global, and even intergalactic worlds,'" says artist KiII Joy, "Libraries are a celebration of community building, and I am very honored to contribute to these time-honored sanctuaries of learning, community, democracy and imagination."
The Mayor's Office of Cultural Affairs, through Houston Arts Alliance, sought proposals from across the nation for this permanent work of art which will be included in the City's Civic Art Collection upon its completion in late 2023.
This commission opportunity is made possible through the City of Houston's Civic Art Program, managed by the Mayor's Office of Cultural Affairs, which provides exciting opportunities for Houstonians and visitors to engage with art in public spaces, like Houston Public Library locations. Under contract and in partnership with MOCA, Houston Arts Alliance administers these city-funded public opportunities to acquire and conserve the City of Houston's public artworks.
Find more information on the artist, the mural concept, and the selection process here.
About the Mayor's Office of Cultural Affairs
The City of Houston Mayor's Office of Cultural Affairs guides the City's cultural investments with policies and initiatives that expand access to arts and cultural programs in the community, attract visitors and leverage private investment. Learn more at www.houstontx.gov/culturalaffairs and follow us on Facebook & Instagram @HoustonMOCA and on Twitter @Houston_moca.
About the Houston Public Library System
Houston Public Library (HPL) operates 26 Neighborhood Libraries, five Regional Libraries, three History Research Centers, two Express Libraries, the HPL Mobile Express, three TECHLink locations and a satellite location at the Children's Museum of Houston. The Downtown Houston flagship facility, Central Library, along with the Barbara Bush Literacy Plaza, anchors this constellation of service points. HPL is committed to excellent customer service and equitable access to information and programs in an increasingly digital age. For further information, visit Houston Public Library at www.houstonlibrary.org, call 832-393-1313, or follow us on Twitter or Facebook @houstonlibrary or on Instagram @houstonpubliclibrary.
About Houston Arts Alliance
Houston Arts Alliance (HAA) is a local arts and culture organization whose principal work is to implement the City of Houston's vision, values, and goals for its arts grantmaking and civic art investments. HAA also executes privately funded special projects to meet the needs of the arts community, such as disaster preparation, research on the state of the arts in Houston, and temporary public art projects that energize neighborhoods. To learn more about HAA, visit www.houstonartsalliance.com and follow us on Facebook & Instagram @HoustonArtsAlliance and on Twitter @haatx.