> Fleet Management Department
Fleet Management Department
The mission of the Fleet Management Department is to provide high quality, cost effective and sustainable fleet management and maintenance services to our customer departments.
The department operates 25 maintenance and repair facilities to provide fleet services to 22 City departments with a combined municipal fleet total of approximately 13,000 units. The department is responsible for asset management, maintenance and repairs, fueling services, vehicle acquisitions and dispositions, equipment specifications, alternative fuel programs and the shared motor pool program, FleetShare.
About the Director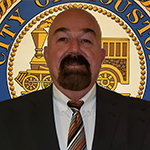 December 16, 2020 -- Mayor Sylvester Turner has appointed Gary Glasscock as the new Director of the Fleet Management Department for the City of Houston.
Glasscock's appointment is effective January 1, 2021. He will succeed Victor Ayres, who announced his retirement earlier this month.
Glasscock joins the City of Houston with nearly 40 years of professional experience in the fleet and facilities management field. Before joining the City, Glasscock was the Director of Maintenance for the Metropolitan Transit Authority of Harris County. He held several positions, including Vice-President of Fleet & Facilities with VIA Metropolitan Transit in San Antonio.
"I am pleased to welcome Gary Glasscock as the new Fleet Management director and I look forward to working with him," said Mayor Turner. "Glasscock's extensive fleet and facilities maintenance management experience will play a pivotal role in optimizing our City's fleet operations. The fleet industry is constantly changing, so having a seasoned individual like Glasscock, who understands the importance of implementing new technology and best practices, will be a great asset for us."
As the Director of Maintenance for Metro, Glasscock was responsible for managing the Technical Services, Quality Assurance, Warranty, and Support Vehicle Maintenance Divisions within the Department of Bus Maintenance. As the VP of Fleet & Facilities for VIA Metropolitan Transit, Glasscock was responsible for the planning, implementation and administration of the maintenance and engineering functions for a transit fleet and transit-related facilities.  His duties also included establishing and implementing controls to ensure compliance with organizational goals such as the budget, quality standards, performance standards, and legal requirements.
"I am extremely honored and grateful to be appointed as Fleet Management Director," said Gary Glasscock. "The responsibility of managing a fleet involves a lot of moving parts and variables.  My challenges are to build upon the enormous successes of the Department, provide for continuous improvement and ensure the needs of customer departments are satisfied. I look forward to working with the staff, the Mayor's office and City Council to manage the City fleet in the most efficient and effective manner possible."
Glasscock holds a Bachelor's degree in Mechanical Engineering from the University of Texas at San Antonio.
Organizational Structure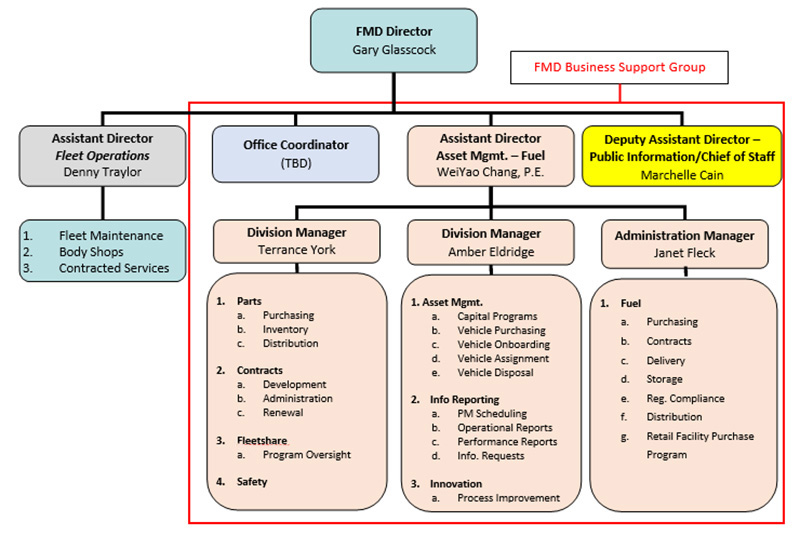 Vehicle Characterizations

| | | |
| --- | --- | --- |
| VEHICLE CLASS | FUEL TYPE | TOTAL # IN FLEET |
| Light Duty, Classes 1 and 2 | Propane | 4 |
| GVW up to 10,000 lbs. | Electric | 44 |
| | Hybrid | 519 |
| | Unleaded | 7,362 |
| | TOTAL | 7,929 |
| Medium Duty, Classes 3-5 | Unleaded | 513 |
| GVW > 10,000 to 19,500 lbs | Diesel | 807 |
| | TOTAL | 1,320 |
| Heavy Duty, Classes 6-8 | CNG | 1 |
| GVW > 19,500 lbs. | Hybrid | 12 |
| | Diesel | 1,213 |
| | TOTAL | 1,226 |