>
Police
>
News Release
POLICE Department
Suspect Arrested, Charged in Crash at 4800 Yellowstone Boulevard
August 27, 2018
- Charges have been filed against a suspect arrested in a fatal crash at 601 West Mount Houston Road about 2 a.m. on Sunday (August 26).
The suspect, Hugo Flores (H/m, 29), is charged with driving while intoxicated (2nd offense) in Harris County Criminal Court # 9.  A booking photo of Flores, with cuts and abrasions received in the crash, is attached to this news release.
The identity of the male victim, 35, is pending verification by the Harris County Institute of Forensic Sciences.
HPD Vehicular Crimes Division Sergeant S. Maness and Officer J. Hill reported:
Flores was driving a white Dodge Challenger - possibly at a high rate of speed eastbound on West Mount Houston Road - when his vehicle struck a black Ford Mustang exiting a private parking lot.  The driver (victim) of the Mustang failed to yield the right of way leaving the parking lot.  The Mustang flipped, ejecting its driver from the vehicle.  Paramedics transported the victim to Ben Taub General Hospital where he was pronounced deceased.  Flores was transported to Houston Northwest Medical Center for treatment of non life-threatening injuries.  He was determined to be intoxicated and was subsequently charged.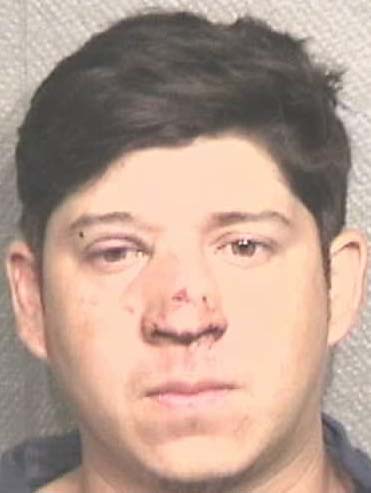 Suspect Hugo Flores
JFC/VHS 8-27-18
Inc. #108574518-D
For additional information, please contact the HPD Public Affairs Division at 713-308-3200.