>
Police
>
News Release
POLICE Department
Update: Suspect Arrested, Charged in 2016 Fatal Shooting at 702 Glenburnie
August 31, 2018
- Charges have been filed against a suspect arrested in the fatal shooting of a man at 702 Glenburnie Drive about 6:05 p.m. on August 26, 2016.  
The suspect, Johnny Smith (b/m, 19), is charged with murder in the 263rd State District Court.  A booking photo of Smith is attached to this news release.  
The victim, Miguel Juarez, 20, was pronounced dead at Memorial Hermann Northwest Hospital.   
HPD Homicide Division Sergeant C. Smith and Detective L. Lovelace reported:  
Mr. Juarez was sitting in front of a store at the above address when he got into an argument with an unknown male suspect  The suspect then pulled out a gun and shot the victim.  HFD paramedics responded to the scene and transported Juarez to the hospital.  
Further investigation identified Johnny Smith as the suspect in this case.  The case was presented to a Harris County grand jury for review and a murder charge was filed in March 2018.  Smith was taken into custody on July 23 without incident.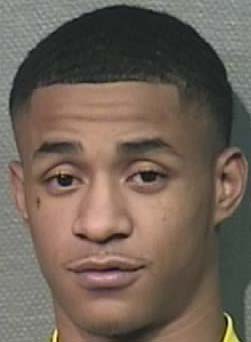 Suspect Johnny Smith
Update: VHS/JFC 8-31-18
VHS/JFC 8-29-16
Inc. #109576016
For additional information, please contact the HPD Public Affairs Division at 713-308-3200.