>
Police
>
News Release
POLICE Department
Suspect Arrested, Charged in Fatal Crash at 17900 Tomball Parkway
October 12 2020 - Charges have been filed against a suspect arrested in a fatal crash at 17900 Tomball Parkway (State Highway 249) service road that occurred about 1:40 a.m. on Sunday (October 11).

The suspect, Luis Zamora (H/m, 35), is charged with intoxication manslaughter in the 185th State District Court.  A photo of Zamora is attached to this news release.

He is accused in the death of a female victim, 31.  Her identity is pending verification by the Harris County Institute of Forensic Sciences.

HPD Vehicular Crimes Division Sergeant D. Rose and Officer A. Chheav reported:

The victim, operating a red Honda CBR1000 motorcycle, had a green light and turned left from FM 1960 West onto the southbound lanes of Tomball Parkway service road.  Zamora, driving a black Cadillac Escalade southbound on the Tomball Parkway service road, ran a red light at the intersection and struck the woman.  

The motorcyclist was transported to HCA Houston Healthcare Northwest Hospital where she was pronounced deceased.

Zamora was examined by an HPD DWI Task Force officer and showed signs of intoxication.  He was then arrested and charged in this incident.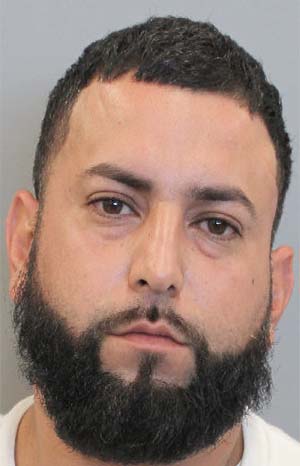 Luis Zamora

JKS/KJS 10-12-20
Inc. #134839120-Z
For additional information, please contact the HPD Public Affairs Division at 713-308-3200.