>
Police
>
News Release
POLICE Department
One Suspect Arrested, Another Sought in Fatal Shooting at 4264 South Kirkwood Drive
October 19, 2020 - Charges have been filed against one suspect arrested in the fatal shooting of one man and wounding of two others at 4264 South Kirkwood Drive about 7:20 p.m. last Thursday (October 15).  

The suspect, Derrick Pearson (b/m, 32), is charged with deadly conduct-discharging of a firearm in the 351st State District Court.  A booking photo of Pearson is attached to this news release.  One other suspect remains at large.  

One victim, Jetory Willis, 36, was transported to Ben Taub General Hospital where he was pronounced deceased. 

HPD Homicide Division Detectives L. Patterson and R. Naughton reported:  

HPD patrol officers responded to a shooting outside a business at the above address and found multiple fired rounds at the location.  A witness stated a male suspect walked up to an unknown male and, at gunpoint, robbed him of his belongings.  As he walked away, Jetory Willis who, along with his brother Kehlon Willis, witnessed the robbery, pulled out a handgun and pointed it at the suspect.  The suspect and Jetory exchanged gunfire.  At that time, another unknown black male exited a music studio in the strip center at the above address and fired shots in the direction of the Willis brothers and the suspect.  At some point, all three were struck by gunfire, however it has not been determined who was shot by whom.  

Jetory and Kehlon then drove to a nearby business and  called 9-1-1.  Paramedics responded to the scene and transported Jetory and Kehlon to the hospital.  Jetory was pronounced deceased and his brother remains hospitalized in an unknown condition.  The robbery victim was not injured.  

Suspect Pearson fled the scene on foot and was transported by private vehicle to Oak Bend Medical Center-Jackson Street Medical Campus with a gunshot wound.  He was subsequently arrested and charged for his role in the incident.

Anyone with information in this case or on the wanted suspect is urged to contact the HPD Homicide Division at 713-308-3600 or Crime Stoppers at 713-222-TIPS.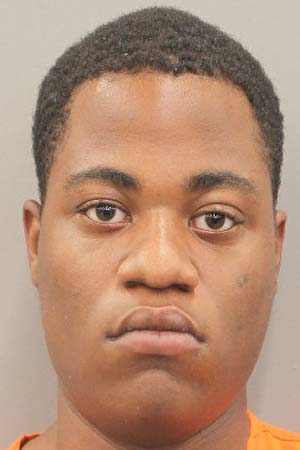 Derrick Pearson
VHS/JFC 10-19-20
Inc. #137162320
For additional information, please contact the HPD Public Affairs Division at 713-308-3200.