>
Police
>
News Release
POLICE Department
2nd Update: Second Suspect Charged, Other Sought in 2019 Fatal Shooting at 6000 Bellaire Boulevard
October 20, 2020 - Charges have been filed against a  second suspect arrested in the fatal shooting of a male that occurred at 6000 Bellaire Boulevard about 7:50 p.m. on November 20, 2019.  

The suspect, Kerry Vallery (b/m, 21), is charged with capital murder in the 228th State District Court.  Another suspect, Fredrick Gibson (b/m, 23), was previously charged with capital murder in the 262nd State District Court.  Both men are accused in the death of  Austin Michael Thomerson, 55, who was pronounced deceased at an area hospital. 

A booking photo of of Vallery is attached to this news release.  A photo of Gibson is not available at this time as he remains in custody in the state of Louisiana for an unrelated crime.  

HPD Homicide Division Detectives J. Caten and D. Higgs reported:  

The suspects, dressed in hooded coats and wearing masks and gloves, entered a pawn shop at the above address.  As they entered, employees took cover and the suspects ran to the back of the store.  Mr. Thomerson, who had a concealed handgun license (CHL), waited for the suspects to come back out from the rear of the store.  When the suspects returned, Thomerson and the suspects exchanged gunfire.  Thomerson was struck multiple times and the suspects fled the store on foot in an unknown direction.  Paramedics transported Thomerson to an area hospital where he was pronounced deceased.  It was unknown at that time if the suspects were struck by gunfire. 

A preliminary investigation investigation identified Gibson as a suspect in this case and, on April 8, a capital murder charge was filed and a warrant was issued.  Gibson is currently awaiting extradition back to Texas.  

Further investigation identified Vallery as a second suspect in this case.  Vallery was taken into custody at his residence by HPD officers last Wednesday (October 15) and subsequently charged for his role in the shooting.  Investigators believe a third unidentified suspects remains at large. 

Anyone with information on the identities of the remaining wanted suspects or in this case is urged to contact the HPD Homicide Division at 713-308-3600 or Crime Stoppers at 713-222-TIPS.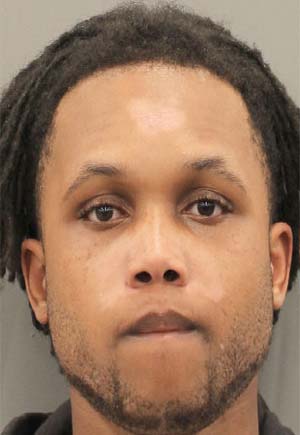 Kerry Vallery

2nd Update: VHS/JKS 10-20-20
Update: VHS/JFC 9-11-20
VHS/JKS 11-21-19
Inc. #153120719

For additional information, please contact the HPD Public Affairs Division at 713-308-3200.