>
Police
>
News Release
POLICE Department
Investigation into Fatal 2020 Shooting at 8040 South Loop East
April 8, 2021 - Houston police have arrested a suspect charged in the fatal shooting of a man at 8040 South Loop East (South Interstate Highway 610 East) that occurred about 8:45 p.m. on October 21, 2020.  

Giovani Montiel (w/m, 27) is charged with murder in the 185th State District Court.  A photo of Montiel is attached to this news release.

He is accused in the killing of Alejandro Ocanas, 25. 

HPD Homicide Division Detectives D. Higgs and Officer E. Martinez reported:  

HPD patrol officers responded to a shooting at the above address and found Mr. Ocanas inside his vehicle and suffering from multiple gunshot wounds.  Houston Fire Department paramedics transported Ocanas to an area hospital where he was pronounced deceased.  

Further investigation identified Montiel as a suspect in this case and, on Tuesday (April 7), he was charged for his role in Ocanas' death.  Montiel is currently in the Harris County Jail on an unrelated charge.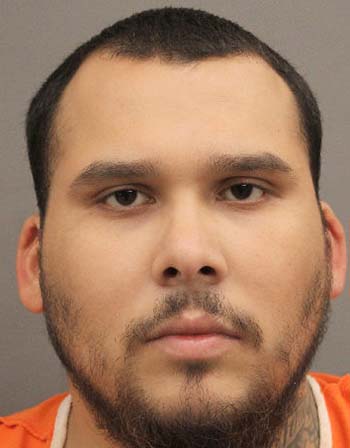 Giovani Montiel (November 2020)
Update: JKS/KJS 4-8-21
VHS/JKS 10-22-20 Inc. #140075220
For additional information, please contact the HPD Community Affairs Division at 713-308-3200.