>
Police
>
News Release
POLICE Department
Update: Suspect Charged, Wanted in Shooting at 12098 Gulf Freeway
April 15, 2021 - Charges have been filed against a suspect wanted in the shooting of a man at 12098 Gulf Freeway (South Interstate Highway 45) service road that occurred about 11:55 p.m. on March 2.  

The suspect, Dionicio Solis (H/m, 21), is charged with two counts of aggravated assault with a deadly weapon in the 228th State District Court.  A photo of Solis, who is not in custody, is attached to this news release.  

He is accused in the shooting of Marco Garcia, 25,  who was transported to an area hospital in critical condition.

HPD Major Assaults & Family Violence Division Officers F. Lee, Jr. and B. Godoy reported:

Mr. Garcia and his girlfriend were inside a bar at the above address when an argument involving three unknown males and their friend became physical.  When Garcia tried to intervene, the suspects turned their attention to him and his pregnant girlfriend. 

While in the parking lot, Garcia and his girlfriend got into their vehicle and attempted to leave the area when they were shot at by a suspect armed with a rifle.  The suspect fired multiple shots, striking Garcia in the neck, back and head.  Paramedics transported Garcia and his girlfriend to a hospital.  The girlfriend was not struck by the gunfire.

The unknown suspect(s) were seen fleeing in a maroon Ford F-150 pickup truck.

Further investigation identified Solis as a suspect in this case.  He remains at-large.  

Anyone with information on the whereabouts of Dionicio Solis or in this case is urged to contact the HPD Major Assaults & Family Violence Division at 713-308-8800 or Crime Stoppers at 713-222-TIPS.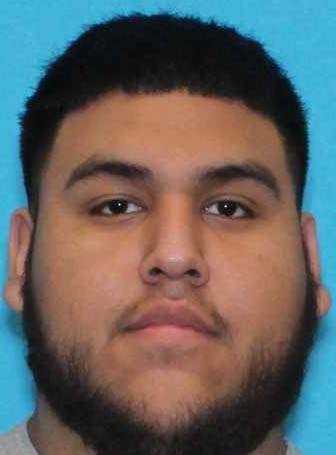 Dionicio Solis (TDL photo)
Update: VHS/JKS 4-15-21
JFC/VHS 3-3-21
Inc #028553921
For additional information, please contact the HPD Community Affairs Division at 713-308-3200.