>
Police
>
News Release
POLICE Department
Suspect Arrested, Charged in Shooting at 700 Dunham Road
June 1, 2021 - Charges have been filed against a suspect arrested in the shooting of a juvenile male at 700 Dunham Road about 2:15 p.m. on Saturday (May 29).

The suspect, Angelia Mia Vargas (H/f, 24), is charged with deadly conduct - discharge of firearm in the 185th State District Court.  A booking photo of Vargas is attached to this news release.

The victim, 5, was transported to an area hospital in stable condition with what are believed to be non-life-threatening wounds.

HPD Major Assaults & Family Violence Division Detective J. Hasley reported:

HPD patrol officers responded to a shooting call at the above address.  Upon arrival, they learned the boy had been struck in the abdomen by a ricocheting bullet.  Investigators learned the child's mother, suspect Vargas, had fired a small caliber pistol three times at a dog running loose across the street.  One of the bullets ricocheted and struck the child. 

After consultation with the Harris County District Attorney's Office, Vargas was arrested and charged in this incident, as she had fired across a public roadway and in the direction of two occupied houses.

The owner of the dog was issued a citation of the dog running loose.  The dog was not injured.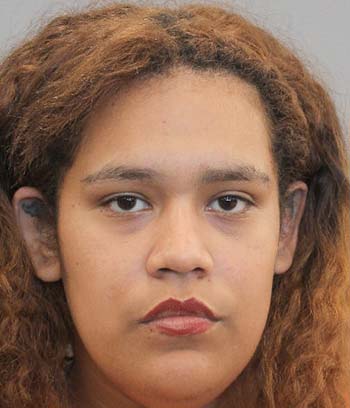 Angelia Mia Vargas
KJS/JFC 6-1-21
Inc #071872621
For additional information, please contact the HPD Community Affairs Division at 713-308-3200.