>
Police
>
News Release
POLICE Department
Update: Suspect Arrested, Charged in Shooting of HPD Officer at 9757 Pine Lake Drive
June 7, 2021 - Charges have been filed against a suspect arrested in the shooting of an off-duty HPD officer that occurred at 9757 Pine Lake Drive about 10:30 p.m. on Sunday (May 30).

The suspect, Josue Tomas Gallegos (H/m, 33), is charged with aggravated assault against a public servant in the 351st State District Court.  A booking photo of Gallegos is attached to this news release.

Officer John Brown, 33, was transported to Memorial Hermann - Texas Medical Center where he was treated and released.

Officer Brown was sworn in as an HPD officer in June 2012 and is assigned to the Homicide Division.

HPD Special Investigations Unit Sergeant R. Flores and Detectives J. Turner, R. Anderson and A. Hurtado reported:

Officer Brown approached a suspicious male on the top floor of a parking garage at the apartment complex at the above address.  As Officer Brown attempted to detain the suspect, the suspect brandished a firearm and fired several shots at the officer, striking him in the leg. 

The suspect fled the scene on foot.

Further investigation led to the identification of Gallegos as a suspect in this case.  Last Friday (June 4), he was arrested and charged for his role in this incident.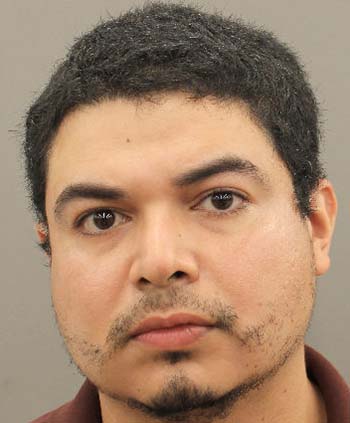 Josue Tomas Gallegos
Update: KJS/JKS 6-7-21
KJS/JFC 6-1-21
Inc. #072569121
For additional information, please contact the HPD Community Affairs Division at 713-308-3200.