>
Police
>
News Release
POLICE Department
Suspect Arrested, Charged in Fatal Crash at 10900 Beamer Road
October 25, 2021 - Charges have been filed against a suspect arrested in a fatal crash at 10900 Beamer Road about 5:20 p.m. on Saturday (Oct. 23).

The suspect, Kyle Nolen Lozano (w/m, 40), is charged with intoxication manslaughter and intoxication assault in the 351st State District Court.  A booking photo of Lozano, with injuries sustained in the crash, is attached to this news release.

The identity of the male victim, 45, is pending verification by the Harris County Institute of Forensic Sciences.

HPD Vehicular Crimes Division Sergeant G. Clark and Officer K. Stout reported:

Witnesses stated Lozano was driving a white Cadillac Deville at a high rate of speed northbound at the above address when he ran the red light and struck a gray Ford Escape traveling on Fuqua Drive with a green light.  Paramedics transported the driver (victim) of the Ford to an area hospital where he was pronounced deceased.  A female passenger, 55, in the Ford was transported to a hospital in critical condition. 

Lozano was determined to be intoxicated.  He was taken to an area hospital for treatment of minor injuries, subsequently charged and then booked into jail.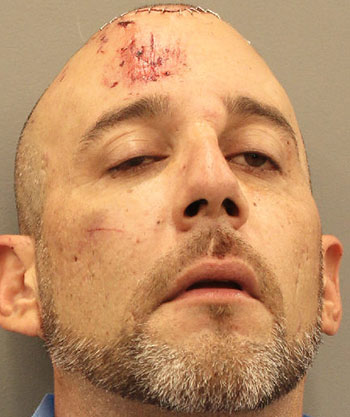 Kyle Nolen Lozano
JFC/JKS 10-25-21
Inc. #143052221-X
For additional information, please contact the HPD Office of Community Affairs at 713-308-3200.