>
Police
>
News Release
POLICE Department
Update: Suspect Arrested, Charged in June Fatal Shooting at 9955 Buffalo Speedway
August 10, 2022 - Charges have been filed against a suspect arrested in the fatal shooting of a man and the wounding of a woman at 9955 Buffalo Speedway about 3:45 p.m. on June 30.

The suspect, Jerel R. Banks, 21, is charged with murder and tampering with evidence in the 262nd State District Court. A booking photo of Banks is attached to this news release.

The deceased male victim is identified as Blake Deion Davenport, 25. The female victim, 23, was transported to an area hospital in stable condition with a non-life-threatening gunshot wound.

HPD Homicide Division Officers B. Stephens and C. Vaughn reported:

Officers were dispatched to a shooting call in a parking lot of the apartment complex at the above address and found Mr. Davenport with multiple gunshot wounds and a woman with a gunshot wound. Paramedics pronounced Davenport deceased and transported the female to the hospital.

Detectives discovered Davenport confronted a black male whom he believed had twice broken into his vehicle. An argument ensued and the suspect pulled a gun and shot Davenport. The female went to the defense of Davenport and fired her own gun at the suspect. The suspect ran and fired a shot back at the female, striking her in the leg.

Further investigation identified Banks as the suspect in this case. Last Friday (Aug. 5), Banks was arrested without incident. He was out on a felony bond at the time of the shooting.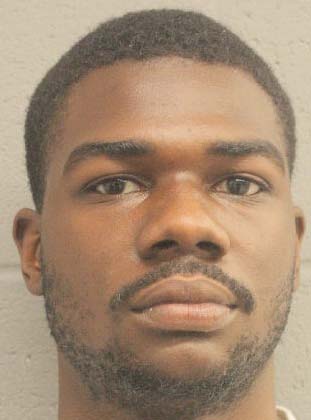 suspect Jerel R. Banks
Update: VHS/JFC 8-10-22
JFC/VHS 7-1-22
Inc #086544422
For additional information, please contact the HPD Office of Community Affairs at 713-308-3200.