>
Police
>
News Release
POLICE Department
Suspect Identified, Charged in Shooting Incident at 4500 Bingle Road
November 18, 2022 - Charges have been filed against a suspect who fired shots at Houston police officers, who returned fire and struck the suspect at 4500 Bingle Road about 12:55 a.m. on Wednesday (Nov. 17).

The suspect, Anthony J. Garcia, 34, is charged with two counts of attempted capital murder of a police officer, felony evading arrest in a motor vehicle and felon in possession of a weapon in the 262nd State District Court. Garcia remains hospitalized with non-life threatening gunshot wounds.

A 2021 booking photo of Garcia is attached to this news release.

The two HPD officers who discharged their duty weapons, J. Ready and C. Wade, were not injured. Both men were sworn-in as officers in December 2018 and December 2019, respectively, and are assigned to the North Patrol Division.

HPD Special Investigations Unit Sergeant M. Ynosencio and Detectives O. Flores, V. Praxedes, N. Alvarado and T. Vaca reported:

Officers in uniform and riding in a marked patrol vehicle observed a suspicious vehicle in a location known to them for narcotics activity. Officers followed the vehicle through a residential neighborhood, observed the vehicle pick up speed and fail to stop at multiple stop signs. Officers activated their emergency equipment and the suspect driver (Garcia) refused to stop. The vehicle pursuit continued to the above address when the suspect's vehicle suddenly spun around, stopping directly in front of, and facing the police vehicle.

As officers were placing their vehicle in park, the suspect began to fire multiple shots through his front windshield and into the officers' front windshield. The suspect was armed with a VSKA AK-style pistol. Officers returned fire and immediately exited their patrol vehicle. After an exchange of gunfire, officers approached the suspect vehicle and gave the driver verbal commands to raise his hands, at which time the suspect complied. Officers took the suspect into custody without further incident and rendered first aid. Paramedics transported the suspect to Ben Taub General Hospital in stable condition. The officers were not injured.

Four felony charges were subsequently filed against Garcia, who was out on parole and wearing an ankle monitor at the time of this incident.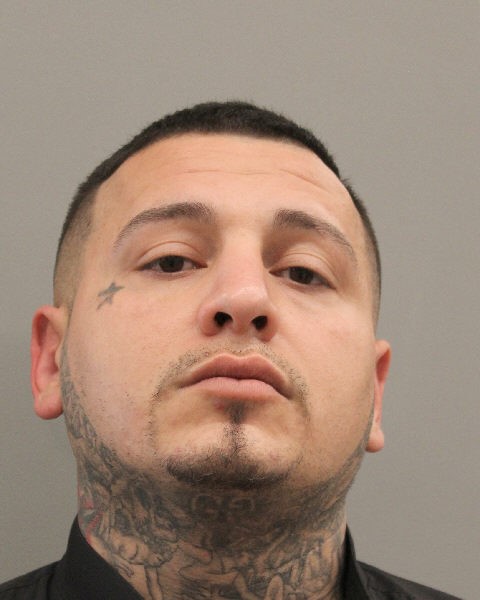 Anthony J. Garcia (2021)



JFC/VHS 11-18-22
Inc #155200222
For additional information, please contact the HPD Office of Community Affairs at 713-308-3200.