>
Police
>
News Release
POLICE Department
Surveillance Photos of Suspect, Persons of Interest in Fatal Shooting at 9955 Buffalo Speedway
November 18, 2022 - Houston police have released surveillance photos of a suspect and persons of interest wanted in the fatal shooting of a man at 9955 Buffalo Speedway about 11:05 a.m. on Thursday (Nov. 17).

The suspected shooter is described as a young black male wearing a lime green hoodie, gray pants and red tennis shoes. Other males wanted for questioning as persons of interest were possibly with the shooter at the time of the incident. Surveillance photos of the suspect and the persons of interest are attached to this news release.

The identity of the victim, 36, is pending verification by the Harris County Institute of Forensic Sciences.

HPD Homicide Division Sergeant A. Lopez and Detective N. Sharp reported:

Officers were dispatched to a shooting call at the apartment complex at the above address and discovered an unresponsive male in a grassy area just outside the fence line of the parking lot. Paramedics pronounced the man deceased with multiple gunshot wounds.

Detectives learned the victim and his girlfriend encountered several young males attempting to break into vehicles in the parking lot. When the victim ran after one of the suspects in an attempt to recover property taken from his girlfriend, he was shot by a male suspect wearing a lime green jacket and gray pants.

Anyone with information on the suspect or persons of interest in this case is urged to contact the HPD Homicide Division at 713-308-3600 or speak anonymously with Crime Stoppers at 713-222-TIPS.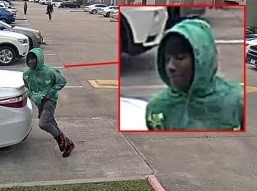 Suspected Shooter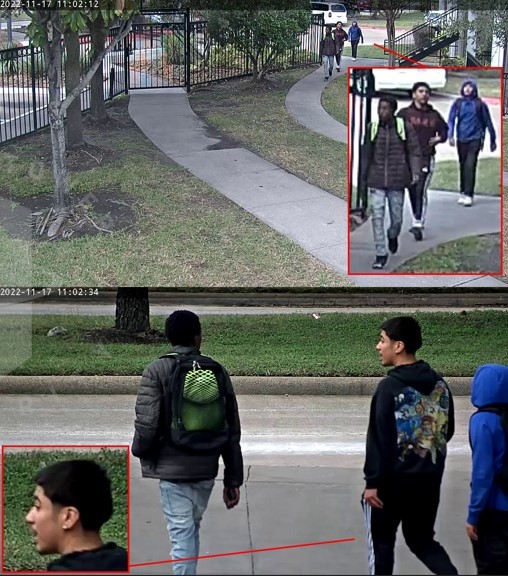 Persons of Interest



Person of Interest



JFC/VHS 11-18-22
Inc #155351822
For additional information, please contact the HPD Office of Community Affairs at 713-308-3200.