>
Police
>
News Release
POLICE Department
Suspect Arrested, Charged in Fatal Shooting at 1162 Allen Genoa Road
August 15, 2023 - Charges have been filed against a suspect arrested in the shooting of a female found at 1162 Allen Genoa Road about 5:05 p.m. on Monday (August 14).

The suspect, Latrenton Dealverez Washington, 36, is charged with murder in the 337th State District Court. A booking photo of Washington is attached to this news release.

The identity of the deceased female, 35, is pending notification to family members by the Harris County Institute of Forensic Sciences.

HPD Homicide Division Detectives J. Gardner and L. Brooks reported:

HPD patrol officers responded to a person down call in the parking lot of a business at the above address and found the female, unresponsive and slumped over in the passenger seat of a blue Toyota Corolla. She had been shot multiple times. Houston Fire Department paramedics responded to the scene and pronounced the female deceased.

A preliminary investigation and evidence from the scene identified Washington as the suspect in this case and the vehicle in which he fled the scene. Officers from the HPD South Central Patrol Division located the vehicle and conducted a traffic stop. Washington was arrested without further incident.

The Harris County District Attorney's Office was contacted and Washington was subsequently charged for his role in the incident.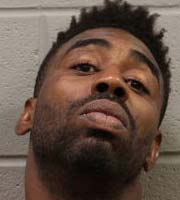 suspect Latrenton Dealverez Washington
VHS/SOA 8-15-23
Inc. #116052723
For additional information, please contact the HPD Office of Community Affairs at 713-308-3200.