>
Police
>
News Release
POLICE Department
Suspect Arrested, Charged in Fatal Crash Investigation at 3000 North Freeway
February 13, 2023 - Charges have been filed against a suspect arrested in a fatal crash at 3000 North Freeway (North Interstate Highway 45) about 9:40 p.m. on Sunday (Feb. 12).

The suspect, Jorge Velasquez Torres, 23, is charged with driving while intoxicated in Harris County Criminal Court # 2. A booking photo of Velasquez Torres is attached to this news release.

The identity of the deceased female, 25, is pending verification by the Harris County Institute of Forensic Sciences.

HPD Vehicular Crimes Division Sergeant D. Rose and Officer J. Bibb reported:

Velasquez Torres stated he and a female friend met up and were drinking in a bar. The two left the bar and Torres began driving her home in a blue Dodge Challenger. As Velasquez Torres was traveling northbound on the North Freeway, he stated the female got angry with him and attempted to exit the vehicle while it was traveling at posted speeds. After multiple attempts, Velasquez Torres says the female managed to exit the vehicle as it was in motion. She landed on the main lanes of the freeway. Paramedics pronounced the woman deceased at the scene.

Velasquez Torres was detained, determined to be intoxicated and was subsequently charged for his role in the crash.

The investigation is continuing.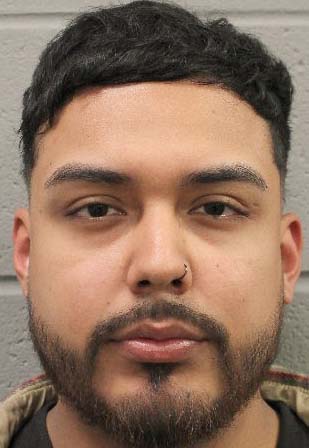 suspect Jorge Velasquez Torres
JFC/SOA 2-13-23
Inc #021513323-G
For additional information, please contact the HPD Office of Community Affairs at 713-308-3200.