>
Police
>
News Release
POLICE Department
2ND UPDATE: Wanted Suspect Arrested in September 2022 Fatal Stabbing at 15838 John F. Kennedy Boulevard
May 16, 2023 - A suspect wanted and charged in the fatal stabbing of a man at 15838 John F. Kennedy Boulevard about 1 a.m. on September 9, 2022, is in now in custody.

The suspect, Steven L. Jones, 28, is charged with murder in the 338th State District Court. A Henry County, Georgia booking photo of Jones is attached to this news release.

He is accused in the death of Clarence Logan, 28.

HPD Homicide Division Sergeant B. Roberts and Detective L. Lange reported:

HPD patrol officers responded to a report of a person down in the parking lot of a hotel at the above address and found the victim with multiple stab wounds. Houston Fire Department paramedics responded to the scene and transported the victim, later identified as Mr. Logan, to an area hospital where he was pronounced deceased.

Further investigation identified Jones as the suspect in this case and, on September 27, a murder charge was filed.

On April 28th, members of the U.S. Marshal Services and the Henry County Sheriff's Office arrested Jones in McDonough, Georgia. He is awaiting extradition to Harris County.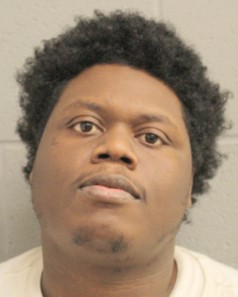 Steven L. Jones
(Courtesy of Henry County, GA)


2nd Update: SOA/VHS 5-16-23
Update: VHS/JKS 10-26-22
VHS/JFC 9-12-22
Inc. #121353422
For additional information, please contact the HPD Office of Community Affairs at 713-308-3200.