>
Police
>
News Release
POLICE Department
UPDATE: Suspect Arrested, Charged in September Fatal Shooting at 8657 Pitner Road
November 9, 2023 - A suspect charged in the fatal shooting of one male and the wounding of another at 8657 Pitner Road about 7:50 p.m. on September 4 is in custody.

The suspect, Jose Darlin Cortez-Hernandez, 30, is charged with murder and aggravated assault with a deadly weapon in the 176th State District Court. A Val Verde County booking photo of Cortez-Hernandez is attached to this news release.

He's accused in the killing of Oscar Martinez, 33, and the wounding of a man, 31.

HPD Homicide Detectives L. Brooks and C. Davidson reported:

HPD patrol officers responded to a shooting call at an apartment complex at the above address and found Mr. Martinez suffering from multiple gunshot wounds. Houston Fire Department paramedics pronounced him deceased at the scene.

Officers found a second shooting victim at a different location. He was transported to a local hospital and survived his injuries.

Investigators learned a suspect described only as an Hispanic male shot both men and fled the scene in a black pickup truck.

Further investigation identified Cortez-Hernandez as the shooter and he was subsequently charged on October 22.

On October 30, detectives learned Cortez-Hernandez was in custody on unrelated charges at the Val Verde County Correctional Facility in Del Rio, Texas. He is awaiting extradition back to Harris County.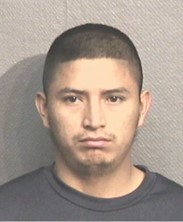 Jose Darlin Cortez-Hernandez
(Val Verde County photo)



Update: SOA/JFC 11-9-23
SOA 9-5-23
Inc. #126873023


For additional information, please contact the HPD Office of Community Affairs at 713-308-3200.