>
City Council
>
District G
> Staff of District G
District G
Staff of District G
Kathleen Shelton, Chief of Staff
Kathleen Shelton is chief of staff and agenda director. Kathleen has worked with Council Member Travis for over 3 years, first on his first campaign for office and then on his council staff as the constituent liaison and then as his director of external affairs.
Kathleen graduated from Loyola Law School in New Orleans and has a B.A. in History from Texas A&M University. Kathleen is active in the community, serving on the boards of several young professional organizations. She is also a member of the Houston Young Lawyers Association, Y'ALL (Young Aphasia Leadership League), and supports Ronald McDonald House Charities.
James Rains, Deputy Chief of Staff
James began his career with the City of Houston in 2013 and spent time in various departments until joining Council Member Jack Christie's office as Chief of Staff in 2018. He recently joined the District G office as Deputy Chief of Staff after seeing through Council Member Christie's term. As Deputy Chief of Staff, James oversees the day-to-day administration of the office and works with Council Member Travis to ensure the city remains accountable to the concerns of its citizenry. James is a sixth-generation, lifelong Texan and a proud alumnus of the University of Houston; graduating with a BA in 2009 and an MPA in 2013. James remains active at his alma mater and has recently served as Vice President of the UH MPA Alumni Association. James can be reached at james.rains@houstontx.gov.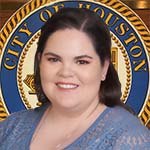 Rachel Maxcy, Director of External Affairs
Rachel has worked for Houston City Council for a couple of years but recently transitioned to Council Member Travis' staff at the beginning of January after Council Member Christie's term ended. She is responsible for all scheduling activity, including meeting requests, event invitations, and managing the Council Member's daily calendar. She also manages all social media and newsletters for the Council Member and oversees creating district events. Rachel has a BS in Sports, Entertainment, Event Management from Johnson & Wales University in Charlotte, NC where she was a member of Delta Phi Epsilon and Student Government. She is a native Houstonian and loves this city and all that it offers. In her spare time, she is the Programming Lead for the Houston Alumni Association of Delta Phi Epsilon, an avid sports fan- especially for Houston teams, Team Captain of a Bowling League Team, and a dedicated committee member for the Houston Livestock Show and Rodeo. Rachel can be reached at rachel.maxcy@houstontx.gov.