>
City Council
>
District G
> Staff of District G
District G
Staff of District G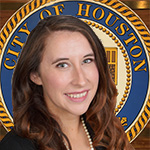 Kathleen Osborne, Chief of Staff
Kathleen Osborne is chief of staff and agenda director. Kathleen has worked with Council Member Travis for over 3 years, first on his first campaign for office and then on his council staff as the constituent liaison and then as his director of external affairs.
Kathleen graduated from Loyola Law School in New Orleans and has a B.A. in History from Texas A&M University. Kathleen is active in the community, serving on the boards of several young professional organizations. She is also a member of the Houston Young Lawyers Association, Y'ALL (Young Aphasia Leadership League), and supports Ronald McDonald House Charities.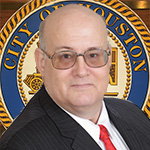 Mark Kirschke, Director of Constituent Services and Communications
Mark F, Kirschke served as communications director for former District G Council Member Oliver Pennington for his entire six year term. Mark, a Board Certified Commercial Real Estate Lawyer, was engaged in the private practice of law for nearly 25 years prior to joining District G council staff. Mark graduated from the University of Houston Law Center in 1987, and received a B.A. with dual degrees in Political Science from James Madison College and Philosophy from the Michigan State University College and Arts and Letters in 1984.
Mark is a tireless community advocate, having dedicated thousands of volunteer hours as a board member of the Briarmeadow Homeowners' Association, the Mid-West Super Neighborhood #20 (as president during 2010 and 2011), as a volunteer disabled parking enforcement officer, a City of Houston citizen park inspector, a member of CERT (Community Emergency Response Team), the Harris County Citizens Corps, ARES (the Amateur Radio Emergency Service), the Harris County Public Health & Environmental Services, the City of Houston BPMS150 Cycling Team and the FEMA Emergency Management Institute.
Danielle Davis, Constituent Liaison and Scheduler
Danielle Davis has worked for Council Member Travis for three years. She started out at his law firm as an executive assistant and in 2018 he brought her over to serve on his council staff as constituent liaison and scheduler. Danielle is excited about getting involved in issues that affect the city and learning more about how the city functions. Danielle is a native Houstonian. In her spare time, she enjoys playing with her dog in the neighborhood park and spending time with her family.