>
City Council
>
District G
> Staff of District G
District G
Staff of District G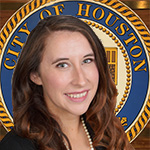 Kathleen Osborne, Chief of Staff
Kathleen Osborne is chief of staff and agenda director. Kathleen has worked with Council Member Travis for over 3 years, first on his first campaign for office and then on his council staff as the constituent liaison and then as his director of external affairs.
Kathleen graduated from Loyola Law School in New Orleans and has a B.A. in History from Texas A&M University. Kathleen is active in the community, serving on the boards of several young professional organizations. She is also a member of the Houston Young Lawyers Association, Y'ALL (Young Aphasia Leadership League), and supports Ronald McDonald House Charities.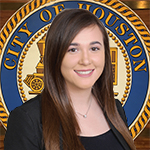 Danielle Davis, Constituent Liaison and Scheduler
Danielle Davis has worked for Council Member Travis for three years. She started out at his law firm as an executive assistant and in 2018 he brought her over to serve on his council staff as constituent liaison and scheduler. Danielle is excited about getting involved in issues that affect the city and learning more about how the city functions. Danielle is a native Houstonian. In her spare time, she enjoys playing with her dog in the neighborhood park and spending time with her family.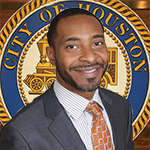 Torrence Atkinson
Torrence Atkinson, a dedicated communications specialist with extensive experience in media relations and special event planning. With an associate degree in Filmmaking and a bachelor's degree in Communications, Torrence yields ten years of experience in problem solving, crisis management, and an extensive talent in the video/television field as a videographer, executing videos/movies of all types including, but not limited to: branded messaging videos, product-based videos, interviews, how-to-demos and films made for TV. Torrence started his role as Director of Constituent Services in January 2018 for District F and has made great strides throughout that District. Now, in District G, Torrence plans to continue to grow and reach the expectations of the constituents in which he serves by assisting the Council Member and the Chief of Staff with constituent issues and maintain the day to day service of the district. With exceptional interpersonal skills, personable and professional under pressure, As Director of Constituent Services Torrence communicates with community leaders on a day to day basis regarding any construction, city projects, and Capital Improvement Projects that are to take place as well as being knowledgeable and aware of what takes place in District.