>
Education
> Cities Connecting Children to Nature
Education
Cities Connecting Children to Nature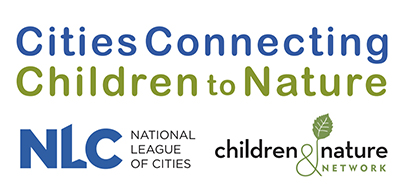 "Just imagine...when you upgrade local neighborhoods parks, then you really have cities connecting children with nature. You're getting them out of their homes, out and about, getting them to establish a very kinetic city where people are moving. It's not just about recreation. It's about good health as well. When people are moving and getting around, riding their bikes, walking, it changes things on so many levels." - Mayor Sylvester Turner
Mayor Sylvester Turner envisions a future where all of Houston's kids reach their full potential.
Increasing children's connections to nature can help achieve this vision. Regular time spent playing and learning outside enhances children's physical and mental health, social emotional skills, and academic outcomes—and inspires environmental stewardship.
The National League of Cities and the Children & Nature Network selected Houston as one of 18 US cities to join the Cities Connecting Children to Nature (CCCN) initiative. CCCN helps cities increase equitable access to nature to improve the wellbeing of children.
Houston, through the CCCN initiative, receives technical assistance, grants and peer learning designed to help implement nature connection strategies so that Houston's children experience the many benefits of nature. When cities reimagine themselves as places to connect with nature, as neighborhoods become more vibrant, and as natural places become meaningful community assets, children and families will thrive.
The CCCN-Houston core team comprises a diverse set of advocates from multiple organizations, including Mayor's Office of Education, The Nature Conservancy, Student Conservation Association, Houston Parks and Recreation, and Houston Public Library among others. The team works together to advance partnerships, track and implement best practices, and develop policies that increase nature access and environmental education for the community. The core team has three task forces working to provide equitable access, including:
Green Career Exposure
It's important that children have the ability to imagine themselves in professions that nurture the planet. The Mayor's Office of Education works to increase accessibility to green careers for summer interns through the Hire Houston Youth program. By providing opportunities for career exploration, training, mentorship, and networking, we can further cultivate a sustainability-minded workforce.
Park Activation & Nature-Smart Libraries
Learning does not only take place indoors. Our goal is to enhance learning and exploring by offering programs through collaborative efforts provided by Houston Parks and Recreation Department and Houston Public Library. Working together, we can activate the utilization of nature spaces and encourage children to take reading and STEM outside.
Resilient School Communities
Our goal is to ensure that schools are nourishing environments in which students can thrive. We aim to convene partners who can help schools become more resilient, from infusing school buildings with more plants and light to developing schoolyards as resilient green spaces. Schools should function as living laboratories which boost academic achievement, student engagement, and overall health.
For more information, please contact us at cccn@houstontx.gov.