>
Houston Emergency Center
> About the HEC
Houston Emergency Center
About the HEC
A Division of the Mayor's Office of Public Safety and Homeland Security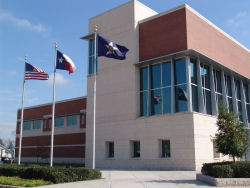 Prior to September 2003, Houston had three emergency communications centers for 9-1-1: Neutral Public Safety Answering Point, Police Department Emergency Communications Division, and Fire Department Emergency Communications Operations. Each agency had separate answering centers, computer networks, and technical support. The development of the state-of-the-art Houston Emergency Center (HEC) consolidates all of these efforts.
Along with HEC providing 24/7 round-the-clock emergency 9-1-1 services, the facility is a $50 million investment towards a secured facility equipped with state of the art emergency communications technology. These advancements are utilized by the center's 9-1-1 call takers and emergency dispatchers from the Houston Police and Fire Departments. System upgrades include police dispatch, fire dispatch, fire records, fire alerting, and geographic information at a cost of approximately $12 million. Antiquated facilities have been replaced with an innovative and redundant complex that consolidates emergency communications.
Beyond its daily operations, the facility's Emergency Operations Center, during times of incident activation, allows interface and constant communications with local, state, and federal agencies. The center's most significant benefit is the common protocol for interagency transaction exchange between 9-1-1, Police, Fire, EMS, and Emergency Management.
The Houston Emergency Center is one of the most impressive and technology advanced emergency communications facility in the country.