>
HTV Houston Television
> HTV Services
HTV Houston Television
HTV Services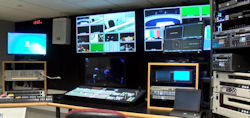 FIELD PRODUCTIONS
HTV offers production services to shoot on locations for interested clients. HTV has a team of videographers, directors, producers and writers who can assist with your production requirements. Your project will be handled from start to finish. Production services include HD videography, audio, lights and other equipment as required. We have the capacity to do training videos, commercials, provide coverage for your event, etc. Call 832.393.1270 so we can provide you with a specialized package. A maximum of (4) hours is required and other fees are assessed on a project basis.

PODCASTS
HTV will offer clients the ability to produce their own podcast. After recording your own podcast, you can walk out with a complete podcast ready to share and broadcast on any outlet choose. This digital medium will be a combination of music or talk, with a range of topics made available in digital format for automatic download over the internet. Podcast can be syndicated or streamed on-line to a computer, mp3 player or mobile device. Call 832.393.1270 so we can provide you with more information.

STUDIO PRODUCTIONS
HTV clients can utilize our studio for their productions. HTV has myriad of services to help you promote your vision. Call 832.393.1270 so we can provide you with more information.
Our Clients
DEPARTMENT OF HEALTH AND HUMAN SERVICES
DEPARTMENT OF NEIGHBORHOODS
FOCUS ON ABILITIES
HOUSTON CITY COUNCIL
HARRIS COUNTY ATTORNEY'S OFFICE
HOUSTON FORENSIC SCIENCE
HOUSTON GALVESTION AREA COUNCIL
HOUSTON PUBLIC LIBRARY
HOUSTON PLANNING DEPARTMENT
HUMAN RESOURCES DEPARTMENT
LATINA VOICES
MAYOR'S COMMUNICATIONS DEPARTMENT
MAYOR'S DEPARTMENT OF SPECIAL EVENTS
MUNICIPAL COURTS
OFFICE OF BUSINESS OPPORTUNITY
RYAN WHITE COUNCIL
SOLID WASTE DEPARTMENT
VOLUNTEER JOURNAL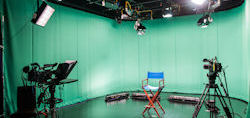 STUDIO RENTALS
HTV has two state-of-the-art studios. Studio A is used for live audiences, while Studio B is specifically designed for green screen presentations, all powered by control rooms with live graphic programs call Xpression! You may supplement our staff with your own or HTV can provide a staff for you. Clients will have the convenience of requesting either studio A or B, control rooms, dressing rooms and green room. Call 832.393.1270 so we can provide you with more information.