>
Innovation
> About Us
About Us
WHAT WE DO
Our goal is to create lasting and substantial improvements in the way the City operates. Our core values are:
Insight: Use data and facts to guide business decisions
Improvement: Work with City departments to do business faster, cheaper & better
Innovation: Find new, inventive ways to solve City challenges
Here are a few of the latest articles written about the Division's work: Innovation in the Press
WHO WE ARE
Jesse Bounds, Director of Innovation (832) 393-9095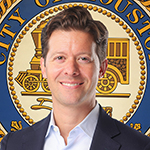 Jesse leads the Mayor's Office of Innovation that is helping modernize the way the City serves its people. Prior to his current role, Jesse served in various capacities for the City's executive office, as an Operations Analyst and Assistant Chief of Staff to Mayor Bill White, and more recently as a Liaison to Tax Increment Reinvestment Zones (TIRZ) in Mayor Parker's Office of Economic Development. He is a Lean Six Sigma Black Belt and led many successful projects across the City resulting in measurable increases in service quality and efficiency. Jesse received his Master of Business Administration from the University of Houston and his Bachelor of Arts in Political Science and International Studies from the University of St. Thomas. In his free time, he enjoys running and spending time with his wife, Gloria and their two sons.
Nate Thompson, Innovation Advisor (832) 393-8804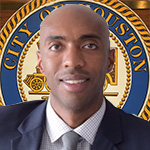 Nate works with the Innovation team on a variety of projects aimed at helping the city use data and emerging technologies to better serve its citizens. Leading up to his current role, Nate served as an Implementation Specialist with the Houston Astros, responsible for the end-to-end management and communication of external & internal projects for technology solutions. Prior to joining the Astros, Nate worked with the Cleveland Indians where he was responsible for managing, researching and implementing emerging technologies that supported organizational efforts to improve customer experiences and internal operations. He graduated from the University of Cincinnati with a BBA in Marketing and earned an MBA from St. Thomas University in Miami, FL. In his free time, Nate enjoys exploring the multitude of culinary, sports & entertainment events Houston has to offer.