Transportation Planning
---
P&D leads the City's systems-level transportation planning. This function includes management of the City's Complete Streets and Transportation Plan, Major Thoroughfare & Freeway Plan, Bicycle Master Plan, rail-related planning, local area studies, and external transportation funding efforts. The Department also supports other departments, including Houston Public Works, as projects are developed at the corridor level for capital improvements. In this way, the City sustains a seamless process for mobility improvements from planning through implementation.
Complete Streets and Transportation Plan Annual Report
In 2013, then-Mayor Annise Parker issued an Executive Order (E.O.) to develop a Houston Complete Streets and Transportation Plan (HCSTP) for the City of Houston. This Plan is meant to provide public streets that are safe, accessible, and convenient for use by motorists, public transit riders, pedestrians, bicyclists, and people of all ages and abilities. The Planning & Development Department and Houston Public Works are working in partnership to implement the Plan. The Plan requires the completion and update of a number of component plans, including the Major Thoroughfare & Freeway Plan, the Houston Bike Plan, and a Regional Transit Plan led by METRO. An Annual Report is required by the Complete Streets E.O. to provide the Mayor an update on implementation of the HCSTP. The Report reviews work completed in the past year, documents measurements of success, and lays out next steps for the upcoming year and beyond. The annual report for 2017 is under development. To view the 2016 report, click here.
Major Thoroughfare & Freeway Plan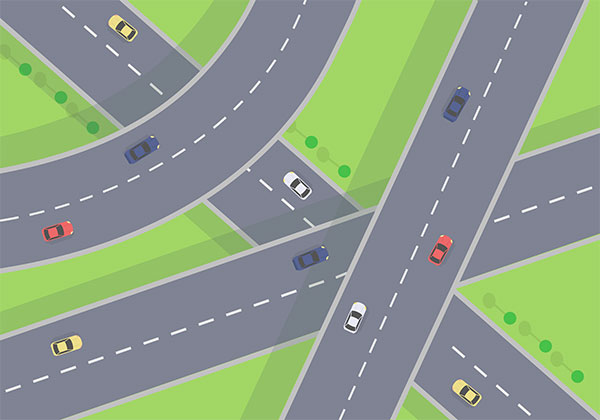 P&D is responsible for maintaining the City's Major Thoroughfare & Freeway Plan (MTFP). The MTFP identifies the required right-of-way and street hierarchy designation (local, collector, thoroughfare, or transit corridor) for each major street in Houston. The Department further incorporated the context-sensitive approach identified in the E.O. into the City's annual process for amending MTFP. In 2017, P&D administered 54 amendments to the MTFP, 33 of which were within the city limits, with the remainder in the City's extraterritorial jurisdiction (ETJ). These amendments were developed using the complete streets philosophy identified in the E.O.
Livable Center and Special District Studies
P&D works in partnership with Houston Public Works to represent the City of Houston in studies led by Houston-Galveston Area Council (H-GAC) and other non-City entities. H-GAC's Livable Centers Program works with local communities to identify specific recommendations, such as pedestrian and bicycle facilities, that foster the development of Livable Centers. Livable Centers, with concentrations of residential and employment land uses, support more trips by foot, bicycle, transit, or carpool. The Kashmere Gardens and the Hobby Area Livable Centers Studies were completed in 2017, and the Westchase District Livable Centers Study and the Spring Branch Livable Centers Study began in 2017 and will be completed in 2018.
Houston BCycle Expansion
The Department sponsored an application in the 2015 Transportation Improvement Program Call for Projects and was awarded a $3.7 million federal grant to expand the City's Houston BCycle program. The expansion project will add 71 bike stations and 568 bicycles to the bike share network and two transport vehicles for bike share operations. Prior to the grant award, the bike share network consisted of 33 bike stations and 225 bicycles. Program operator Houston Bike Share is the local match sponsor of the application and is overseeing implementation of the new stations.
Installation of the bike stations began in January of 2017. Eighteen new bike stations were installed in 2017 in the downtown area, Heights, Third Ward, Greater East End, Near Northside, Montrose, Museum District and Hermann Park, Houston Community College-Central and Rice University increasing the bike share network to 51 stations. Three additional bike stations were purchased to replace existing bike stations damaged during Hurricane Harvey. Future stations planned for 2018 include Texas Medical Center, University of Houston-Main, University of Houston-Downtown, Texas Southern University and other surrounding neighborhoods.
C40 Healthy, Livable Cities Grant Study

In March 2017, the Planning & Development Department along with Houston Health Department was awarded a direct technical assistance grant from C40 on the evaluation of environmental and health benefits of the White Oak Bayou Trail for improving walkability and bikeability. C40, a network of the world's megacities committed to addressing climate change, supports cities to collaborate effectively, share knowledge and drive meaningful, measurable and sustainable action on climate change. Through the 6-month process, the Houston team learned the best practices of the evaluation methodology and the experiences from other cities, and C40 and the ARUP consulting team provided the guidance on how to better utilize existing data, and identify gaps and additional data sources. The final report was completed in November 2017 which addresses the environmental, economic, and health benefits of the White Oak Bayou Greenway. The methodology and findings from this grant study will be included in a toolkit for assessing the intersectionality of public health and active transportation, and will be extended further for the evaluation of improving bike facilities and sidewalks in Houston.
Houston Bike Plan

On March 22, 2017, the Houston City Council adopted the updated Bicycle Master Plan. This adoption is the first update of the Plan since 1993 and was led by P&D with assistance from Houston Public Works, Houston Parks & Recreation, and a host of other partners. The Plan identifies projects that will create a city-wide bicycle network to serve a broad spectrum of people who bike at all skill levels, provide more transportation choices, and build on efforts such as the Bayou Greenways Initiative to create a well-connected city-wide bicycle system of both on and off-street facilities.
VISION: By 2027, the City of Houston will be a Safer, More Accessible, Gold Level Bike-Friendly City and will more than triple the mileage of the current 270 mile high-comfort bikeway network.
Improve Safety – To provide a safer bicycle network for people of all ages and abilities through improved facilities, education, and enforcement
Increase Access – To create a highly accessible, citywide network of comfortable bike facilities that connects neighborhoods to transit, jobs, and activity centers, including schools, universities, parks, and libraries
Increase Ridership – To exceed average ridership levels in peer cities by implementing policies and programs that enable more people to ride bicycles and encourage healthy, active transportation choice
To develop and maintain facilities – To develop and maintain a high-quality bicycle network, including both bikeways and end-of-trip facilities.
In addition to the Plan's adoption, Chapter 33 of the City's Code of Ordinances was updated to mandate a biennial amendment and review process of the Plan and a standing Bicycle Advisory Committee. The Bicycle Master Plan is a component plan of the Houston Complete Streets and Transportation Plan and fulfills the Executive Order requirement for a bikeway plan. P&D staff is currently working on establishing the Bicycle Advisory Committee and working with Houston Public Works to create a process for implementing bike plan recommendations. Most recently, the Houston Bike Plan was awarded the 2017 Our Great Region Connection Award by the Houston-Galveston Area Council.

Lower Westheimer Corridor Study

The Planning & Development Department and Houston Public Works jointly led a pilot enhanced pre-engineering study for the Lower Westheimer Corridor . This study is Houston's first enhanced pre-engineering process, which is for unique streets that merit an advanced level of design sensitivity due to historic, cultural, or community significance. As part of this process, the City collaborates elected officials, property owners, residents, business owners, and community stakeholders to develop a preferred design that enhances the character of the corridor, while improving mobility and safety. The Stakeholder Advisory Committee for the Lower Westheimer study is an example of enhanced community engagement involving community leaders. The study was completed in early 2018.