>
Police
>
News Release
POLICE Department
UPDATE: Suspect Charged, Wanted in Fatal Shooting at 7827 Elvera
November 9, 2015
- Charges have been filed against a suspect wanted in the fatal shooting of a woman and juvenile female found at 7827 Elvera about 12:10 p.m. last Friday (Nov. 6).
The suspect, Jonathan Figueroa (H/m, 23), is charged with capital murder in the 184th State District Court. He is believed to have headed to the Mexican border driving in a 2004 maroon Ford Taurus with Texas license plates CTS3225. A photo of Figueroa is attached to this news release.
Figueroa is accused in the deaths of his girlfriend, Veronica Mercado, 26, and her daughter, Linette Cano, who would have turned 2 years old on November 21. Figueroa is not the child's father.
HPD Homicide Division Sergeant M.A. Holbrook and Officer K. McDonald reported:
The suspect entered Ms. Mercado's residence and fired multiple shots striking both female victims, who were pronounced dead at the scene.
Anyone with information on the whereabouts of Jonathan Figueroa is urged to contact the HPD Homicide Division or Crime Stoppers at 713-222-TIPS.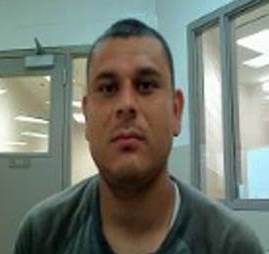 Jonathan Figueroa

Update JFC/VHS 11-9-15 JFC/VHS 11-9-15 Inc #143083815
For additional information, please contact the HPD Public Affairs Division at 713-308-3200.