>
Police
> VIP > Volunteer Initiatives Program - Citizen Patrol
POLICE Department
Volunteer Initiatives Program
Citizen Patrol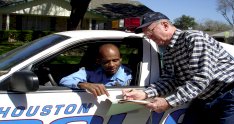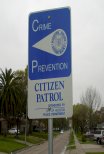 The Houston Police Department is committed in using volunteers to enhance the delivery of police service to the citizens of Houston through the department's Police Volunteer Initiatives Program (VIP). An important component of the Police VIP is the Citizen Patrol program.
The Houston Police Department is concerned about crime in the neighborhoods and communities throughout the city. In response, the Citizen Patrol program was established in an effort to bring the citizens and the police department together for a common goal, and that is to improve the quality of life by eliminating crime. The Citizen Patrol program is designed to provide a means for citizens to organize into patroller groups for the purpose of reducing crime in their community. Citizen Patrollers are the additional eyes and ears the police can count on to make Houston a safe place to live and work.
The goals of the Citizen Patrol program are:
To provide an effective method of discouraging neighborhood crimes and "decline."
To promote a friendly and safer neighborhood environment while respecting the privacy and rights of all citizens.
To encourage awareness and provide improved communication among neighbors.
To upgrade the quality of life and property values in the area.
Citizen Patrol groups, must meet the below listed qualifications:
Designate a lead coordinator.
Recommendation that at least 8 citizens participate in the program. If less than 8 citizens, approval from the Citizen Patrol Division Liaison is required.
Commitment from the group to patrol a minimum of 30 hours per month.
Submit a monthly report detailing the group's activity.
Submit a marked map outlining the area to be patrolled.
To become a Houston Police Department volunteer, please view the
VIP web page
to view the functions of a volunteer, disqualifiers, and information on how to submit an online application.
Become a Citizen Patrol volunteer by:
Once you complete the application, you should contact the Citizen Patrol Division Liaison in your area for further instruction.
Substation

Address

Officer/Phone #

Central

33 Artesian

Houston, TX 77002

L. Vieira

346-435-2211

Clear Lake

2855 Bay Area Blvd

Houston, TX 77058

R. Buitron

832-395-1777

Eastside

7525 Sherman

Houston, TX 77012

E. Cardenas

832-394-9877

South Gessner

6227 Southwest Fwy

Houston, TX 77074

K. Woods

832-394-2660

Kingwood

3915 Rustic Woods

Kingwood, TX 77339

J. Morales

832-395-1819

Midwest SF

9160 Bellaire Blvd #F

Houston, TX 77036

A. Chan

832-394-2780

North

9455 W. Montgomery

Houston, TX 77088

J. Bland

832-394-3884

Northbelt

100 Glenborough Dr.

Houston, TX 77067

H. Montealegre

832-394-4978

Northeast

8301 Ley Road

Houston, TX 77028

K. Miles

713-444-5745

Northwest

6000 Teaque

Houston, TX 77041

F. Segarra

832-394-0114

South Central

2202 St. Emanuel

Houston, TX 77003

L. Anderson

832-394-0200

Southeast

8300 Mykawa

Houston, TX 77048

T. Harris

832-394-1749

Southwest

13097 Nitida St.

Houston, Tx 77045

R. Prince

713-818-9930

Westside

3203 South Dairy Ashford

Houston, TX 77082

J. Simpson-Bailey

832-394-5710

Updated May 2021
Houston Police Department
Office of Community Affairs - 21st floor
1200 Travis
Houston, Texas 77002