>
Police
>
POLICE Department
Volunteer Initiatives Program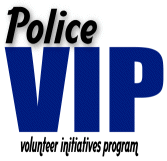 The Houston Police Volunteer Initiatives Program (VIP) is for individuals who wish to volunteer their time as members of the Houston Police Department. The greatest asset of any community is its people. A barometer of that value is the willingness of the people to volunteer. HPD recognizes the importance of volunteers and the valuable contributions they can provide the department. Our goal is to enhance the quality of life in the city of Houston by working as a team. As a Police VIP volunteer, you become a member of our team.
VOLUNTEERS:
are individuals who perform services without pay
augment HPD staff but do not replace paid staff positions
are non sworn member and do not have the authority or duties that would classify them as a police officer
have been selected for a volunteer position by HPD
are expected to perform a minimum of 12 hours per month
turn in a monthly time sheet signed by the Division Coordinator
address all questions, concerns, complaints with their VIP coordinator
must attend a mandatory orientation class
are "authorized volunteers" – completed a background investigation and fingerprint identification check
You are disqualified from becoming a Police VIP if any of the following apply. The following are also grounds for dismissal from the program once you are approved.
Criminal Offenses:

Three (3) or more traffic violations during the last eighteen (18) months.
Felony or Class A Misdemeanor conviction (includes Felony or Class A Misdemeanor Deferred Adjudication convictions).
Class B Misdemeanor in the past ten (10) years (includes Deferred Adjudication convictions).
Family Violence offense conviction.
Indictment for any criminal offense (approval or reinstatement is based on disposition of court case).
Not living in the United States legally.
Under 17 years of age (except YPAC students).



Had / have a pattern of abusing prescription drugs.
Dishonorably discharged from the United States Armed Forces.
Current City Employee (unless participating in Citizen Patrol).
Physical / mental disability that would substantially impair an individual's ability to perform their duties.
Unlawful sexual conduct prior to and/or during volunteer term.
Inappropriate behavior relating to sexual harassment or racial slurs.
Committed an act or behavior tending to bring reproach and/or discredit to themselves and/or the Houston Police Department.
Used, tried, or sold any dangerous drugs or narcotics including cocaine, crack heroin, LSD.
The VIP Application Process takes 3 – 6 weeks due to the following:
Complete an application
Fingerprint Check / Criminal History Check / Background Investigation
Orientation Class (Mandatory attendance is required)
Issuance of Police VIP Identification Card
Placement Interview
The Police VIP is made up of the integral components which form the Houston Police Department's volunteer base.
PROGRAMS / COMPONENTS
(Please click on the item for more information)
Citizens Offering Police Support (COPS)
Citizen Patrol (CP)
Citizens' Police Academy (CPA)
Communicators on Patrol
Houston Citizens' Police Academy Alumni Association (HCPAAA)
Houston Police Foundation (HPF)
The Greater Houston Police Activities League (GHPAL)
Police and Clergy Alliance (PACA)
Student Internship (SI)
Youth Police Advisory Council (YPAC)
To become an HPD Volunteer, you must click on the link and complete a Police VIP Application and attached forms:
the VIP Application is a fillable form (In order to properly fill out, save and submit the PDF form you must use Adobe Reader or Acrobat 8.0 or greater. You can download the latest Adobe Reader here.) Once the form is filled out it can be submitted by clicking the 'submit' button or by emailing the completed form to HPD.CommunityAffairs@houstonpolice.org.



Please provide a copy of your current driver license. The mailing address is listed below.



pick one up at HPD Headquarters, 1200 Travis, 21st floor or call 713 308-3200 and request an application be mailed to you (once completed, mail, fax, or deliver application to the VIP Office)
** Note - Applications for the Citizen Patrol or the Youth Police Advisory Council must be processed via the instructions provided on their web page.
If you have any questions, please contact the VIP office:
Houston Police Department
Community Affairs – VIP Office
1200 Travis, 21st Floor
Houston, Texas 77002
713-308-3200 (office)
713 308 – 3216 (fax)