>
Turnaround Houston!
> Press Release
Turnaround Houston!
Turnaround Houston! Resource Fair Planned to Help Residents Become Prepared for Employment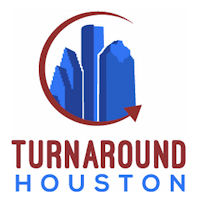 November 1, 2016 -- More than 700 people have participated in Turnaround Houston, a series of resource fairs to address the barriers to employment that many Houstonians face. The next event will take place in the Acres Homes Community located in Northwest Houston. Turnaround Houston offers access to job training, resume writing, tattoo removal, social service agencies, educational institutions, counseling and intervention to help hard to employ Houstonians turn their lives around.
This month's event will bring a new service to Houstonians as the City of Houston's Municipal Court will kick off their Municipal Courts Week at the Turnaround Houston! Resource Fair. Municipal Courts will provide a Court Clinic which is a service designed to help people obtain information about their court case(s) and warrant(s) in order to bring their court matters to resolution. The clinic is provided free of charge an no appointments are necessary.
"I want to personally invite Houstonians to take advantage of the next Turnaround Houston Resource Fair in Acres Homes" said Mayor Turner. "Many Houstonians are searching for services and resources to connect them to employment and educational opportunities, Turnaround Houston is one of the only events that brings all of those services under one roof."
As a part of this initiative, Houstonians who are hard to employ should also know that if they connect with the resources that are available, they can turn their lives around. In addition to the resources and employers that will be available, the City of Houston's Office of Business Opportunity will also be on hand to discuss potential Entrepreneurial Opportunities through the creation of the Turnaround Houston Entrepreneurship Program, an 8-week curriculum based program that will help guide individuals through the process of starting their own business.
Each Turnaround Houston resource fair will include workshops on resume creation and interview tips. Participants can also learn about the City of Houston's Re-Entry Program, Educational Resources and hear the success stories of Houstonians who have received a second chance.
The next resource fair will take place this Saturday, November 5, 2016 from 9 a.m. to 1 p.m. at the Acres Homes Multi-Service Center located at 6719 W. Montgomery Road, Houston, TX 77091.
Turnaround Houston resource partners- Include:
The Office of Business Opportunity
Mental Health Services –Health Department
Mayor's Anti-Gang Office
The City of Houston's Re-entry program
SER Jobs for Progress
The Houston Public Library
Houston Area Urban League
Career Gear
Franklin Beauty & Barber School
Houston Public Library
To see a full list of employers, resource partners and to register log on to www.turnaroundhouston.org. For more information call 832-393-0954.