> Mayor's Office of Veterans and Military Affairs
Veterans and Military Affairs
Disabled Veterans PSA
Announcement
Airports complimentary parking privilege changes for Disability Veterans and military award recipients effective September 15th, 2023. Click on the link for information: https://uat.fly2hou.net/parking/disabledveterans.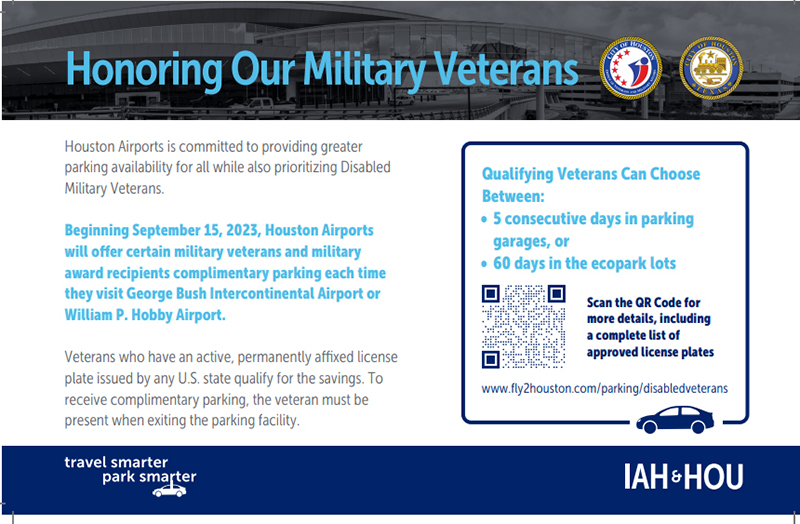 Mission
Since its inception in 2007, the Mayor's Office of Veterans & Military Affairs has steadfastly continued its mission to advocate on behalf of Active Duty, Guard/Reserves, Veterans and the larger Military-Affiliated Community (Spouse/Caregiver and dependent children) and to coordinate/facilitate access to resources through Federal, State and local initiatives and programs.
Overview
MOVMA coordinates with Texas Veterans Commission (TVC), Texas Workforce Commission (TWC) and Veteran Service Organizations (VSOs), as well as non-profit organizations, faith-based organizations and other community service providers to ensure comprehensive support throughout the community and beyond.
Responsible for development and implementation of a comprehensive strategy, involving partnerships with other government agencies and non-profit organizations, to enhance access, coordination and delivery of health and human services to veterans, military personnel and their families throughout the City and the Metropolitan Service Area.
Provides advice and guidance to stakeholders on events, projects and issues of interest to the serving military, veterans, and their families.
Provides on-going interaction and peer-reviewed research to inform planning groups and/or interested stakeholders on issues important to the military and military-affiliated community.
Serves as the City of Houston liaison - Providing a forum for members of the military and military-affiliated community to express their respective views and interests directly to local government officials.
Acts to raise awareness and to inform the Mayor's Office, City of Houston Departments and City Council and to advise on matters impacting the military and military-affiliated community.
Provides Peer-to-Peer counseling to the Military and Military-Affiliated community.