>
Veterans Affairs Office
> About the COHOVA Director
Veterans Affairs Office
About the COHOVA Director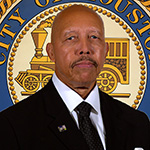 Robert Dembo III is a Vietnam Era Veteran who served in the United States Navy and retired as a Chief Warrant Officer(CWO) (4). He was appointed by Mayor Sylvester Turner as the Interim Director, Mayor's Office of Veterans Affair, City of Houston.
Prior to appointment as Director, he was the Senior Outreach Specialist, Mayor's Office of Veterans Affairs; Executive Assistance, Houston VA Medical Center, CWT Program Manager; Senior Naval Science Instructor, North Forest High (formerly M. B. Smiley High) and Booker T. Washington Naval Junior Reserve Officer Training (NJROTC) Programs.
He served various commands as the Associate Director, Immediate Office of the Secretary of the Navy; Chief, Human Resources, Defense Intelligence Agency; Director, Personnel Support Detachment, Naval Finance Center, Cleveland; Director, Personnel Support Detachment, Naval Air Station Kingsville, Texas; Personnel Officer and Educational Services Officer onboard the USS Constellation (CV-64). At the time of selection to Chief Warrant Officer, he was the youngest Warrant Officer in the U. S. Navy. His military awards include: Defense Meritorious Service Medal, Navy Commendation Medal (2nd Award), Navy Achievement Medal and Sailor of the Year. He has a Bachelor of Art degree at University of Texas (San Antonio) in Criminal Justice (Pre-Law) and minor in Psychology.
You can contact him at robert.demboIII@houstontx.gov.