>
Vision Zero
> Aligned Projects
GULFTON – HILLCROFT AVENUE
Hillcroft Safety Improvement Project
When is the Construction?
Estimated Date (weather permit):
Phase 1 – Begin early September to end of September/early October
Phase 2 – Begin early October to end of October/early November
---
Aligned Projects
What would a Vision Zero project look like? Are there existing projects in Houston that might align with Vision Zero?
Safe Roadways Initiative
Houston Police Department's new Safe Roadways Initiative aims to eliminate aggressive driving and road rage on our streets, and HPD is collaborating with several Houston-area law enforcement agencies, including the Harris County Sheriff's Office and the Texas Department of Public Safety. To support this initiative, HPD is focusing on education and messaging in addition to enforcement, and in their plan of action:
HPD Officers working in a combination of marked and unmarked units will patrol major freeways in the city during peak traffic times
Regional partners will act as a force multiplier communicating directly with HPD units working this initiative
Officers will be proactively looking for aggressive driving behavior:

Excessive speeding
Following too closely
Multiple lane changes without signaling
Obscene gestures and other acts of aggression directed at motorists
Unreasonable use of vehicles' horns
SHEPHERD AND DURHAM MAJOR INVESTMENT PROJECT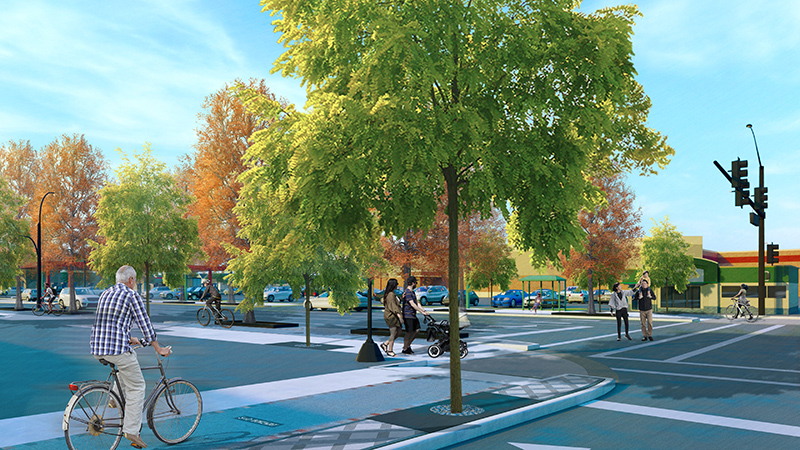 ×
×
×
The Shepherd and Durham investment project is a reimagining of two major north-south one-way pairs into complete streets which support safe, multimodal transportation for all Houstonians. The project is sponsored by the Memorial Heights Redevelopment Authority and supported through federal and local matching funds. The project will replace and upgrade all public infrastructure within the right-of-way. This includes:
Traffic safety improvements such as access management and traffic signals, modifications to existing turning radii, and sight lines;
Congestion and travel time delay reductions through intersection signalization and turning movement improvements;
Reconfiguration of Shepherd and Durham's travel way to include three travel lanes for vehicles, protected bike facilities, and improved pedestrian facilities which will reduce crash rates and facilitate better crossing movements for all users;
New and repositioned Houston METRO bus stops;
Upgraded stormwater infrastructure to meet post-Hurricane Harvey standards; and
Improvements to water and sanitary sewer lines.
SMITH/BAGBY/HOLMAN: Addressing one of the most dangerous intersections for people walking and biking
Look for these improvements in the coming months (summer-fall 2020):
Creation of a median refuge for people walking and biking
Removal of the south bound lane on Smith to allow for median refuge
Shortened distance to walk/bike across on Smith
New, wider curb ramps to increase space for people walking and biking
Slower vehicle turns onto Holman from Smith been
New trail pavement on the east side of Smith to create a comfortable waiting area
TOP 12 MOST DANGEROUS INTERSECTIONS FOR PEOPLE WALKING AND BIKING
In September 2018 and January 2019, the City of Houston partnered with the Federal Highway Administration (FHWA), BikeHouston, LINK Houston, and METRO to assess the 12 most dangerous intersections for people walking and biking. These intersections were identified in partnership with LINK Houston and BikeHouston, using both crash data and community feedback to determine which were the most dangerous. Criteria were based on a variety of factors, such as the number of people walking and biking who were killed at intersections and where people felt unsafe.
West at Airline
Fannin at Pierce
Washington at Patterson
11th at Nicholson
Bellaire from Ranchester
Bellaire at Gessner
Long Point at Gessner
Taylor at Spring and MKT Trail
Shepherd at Allen Parkway and Shepherd at Memorial Parkway
Hawthorne at Spur 527 and Holman
Fondren at West Bellfort
Bissonnet at Wilcrest
Of note: The intersections are listed in order of assessment. Intersections 1-7 were assessed in September 2018 and intersections 8-12 were assessed in January 2019.