>
About Houston
> Conventions
About Houston
Conventions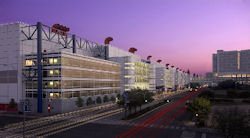 WHAT IS HOUSTON FIRST CORPORATION?
In 2011, the City of Houston established Houston First, a local government corpora­tion created to operate the city's convention and performing arts facilities, as well as pro­mote Houston as a world-class destination for tourism and conventions.
Houston First's vision and efforts enrich the lives of Houstonians in a number of ways, beginning with promoting the region as a destination for tourism and convention busi­ness. The organization also works to attract film production to the area and operates theaters where world-class performances take center stage, all while managing outdoor spaces where festivals and other activities thrive.
We keep things running smoothly while the George R. Brown Convention Center and Hilton Americas-Houston play host to the world. We provide more than 10,000 park­ing spaces for evening theater goers and downtown's daytime office workers. We also partner with like-minded organizations that share our passion in making Houston a better place to live, work and visit—all of which stimulates the local economy and improves overall quality of life.
Houston First's establishment was the result of more than 10 years of study. In forming the organization, the City consolidated its Convention & Entertainment Facilities Department, and the Houston Convention Center Hotel Corporation (created by the City in 2000). This consolidation was enhanced in 2014 when Houston First and the Greater Houston Convention & Visitors Bureau (GHCVB) aligned to create a single, unified voice that speaks for the Houston product in all sales and marketing efforts.
The restructuring has streamlined our organization and improved accountability, while providing Houston First with the flexibility to adjust sales and marketing expenditures based on market conditions.
OUR DUTIES
Houston First operations include day-to-day maintenance, management and licensing of its properties as the sites of conventions and trade shows (40 major events and 200 smaller events, per year), concerts and theatrical performances (more than 600, per year), and civic events. The organization also acts as the City of Houston's agent for collection of hotel occupancy tax revenue.
A 12-member Board of Directors sets policy for the corporation and approves its major initiatives and expenditures. The City of Houston maintains an oversight role through the City Council's approval of board appointments and its annual budget. Two City Council members also sit on the Board of Directors, in ex-officio roles.
OUR MISSION
The mission of Houston First Corporation is to enhance quality of life, advance economic prosperity and promote the Houston region by inspiring:
The world to think Houston first;
Houstonians to believe in Houston first; and,
Houston to deliver first-class hospitality.
Learn more at www.HoustonFirst.com