>
City Council
> At-Large Position 2
At-Large Position 2
Council Member David Robinson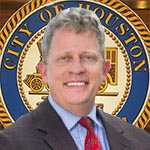 David W. Robinson is currently serving 2.3 million citizens of the City of Houston in his second term as City Council Member for the At-Large 2. David was appointed chair of the Transportation, Technology & Infrastructure (TTI) Committee of the Houston City Council in the spring of 2018. He served as vice chair of the Quality of Life (QOL) Committee under Mayors Parker and Turner since taking office in 2014. He is also vice chair of the Regulation and Neighborhood Committee since 2016 under Mayor Turner. Since 2014, David serves on the Houston First Corporation Board as co-chair of the Joint Tourism Committee. He was appointed by Mayor Sylvester Turner to represent Houston Galveston Area Council (HGAC) Transportation Policy Council and currently serves that 8-county regional authority as officer and second vice chair.
Early in his architectural career, David worked on the design of the U.S. Embassy in Amman, Jordan. He later contributed to the master plan for the campus of Houston's Texas Children's Hospital. Since then he has worked on various healthcare projects in the Texas Medical Center (TML), around Texas and beyond. In 1999, he started his own company as a sole practitioner with a broad, diverse portfolio that presents work completed on health care facilities, commercial businesses, individual residential projects and other related commissions. As a small business owner, David maintains a list of projects mostly located in the Houston area and has taught a graduate-level course for Texas Tech University in their Houston Practicum called "Infrastructure in the Urban Environment", and currently serves on Rice Architecture's William Ward Watkins Council.
Along with his architectural practice, David has been actively involved with neighborhood issues, serving eight years as an officer of the Neartown (Montrose) Association, including terms as vice president and president. With the nomination of civic club representatives from across Houston, he was elected to serve as chairman and president of the citywide Super Neighborhood Alliance (SNA) to a maximum two-year term that concluded in January 2013. Concurrently and while serving on the board of directors for the local chapter of the American Institute of Architects, David was appointed to the City of Houston Planning Commission by Mayor Bill White in 2007 and re-appointed by Mayor Annise Parker in 2009, becoming the first licensed architect to serve that commission since the 1970's.
David W. Robinson received a BA in Architecture from Yale College in 1988 and earned a Master of Architecture from Rice University in 1993. In 2018 he was inducted to the College of Fellows of the American Institute of Architects (FAIA). He is the proud father of 19-year-old Elissa and is an active member of Palmer Memorial Episcopal Church.