>
City Council
> At-Large Position 4
At-Large Position 4
Council Member Letitia Plummer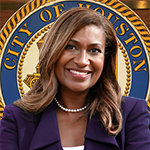 Dr. Letitia Plummer is a successful business owner with a consistent record of community service.
She is a dentist, a volunteer, and a mom, with deep roots in the Bayou City, and will bring her history of a thriving Houston experience to her role representing Position 4.
Like many Houstonians, Letitia was raised in a multicultural household, an experience that has shaped everything she does. She was born to an African American father and a Yemeni-Indian mother in Boston, and the family arrived back in Houston in 1973. She attended HISD public schools, and after graduating from The High School for Health Professionals (now known as DeBakey High School for Health Professions), Letitia enrolled at Spelman College, one of the most prestigious Historically Black Colleges and Universities in the nation and was active in Alpha Kappa Alpha sorority. Immediately after college, she returned to Texas, where she graduated from Baylor College of Dentistry and followed in her father's footsteps as a practicing dentist. Soon thereafter, she opened her first of two dental practices in the Houston-area. As a dentist, she has been recognized by fellow Houstonians with numerous awards including "Top Professionals on the Fast Track" and "Houston's Top Dentist."
Serving the people of Houston runs in the Plummer family DNA. Her grandfather was a Tuskegee Airman flight instructor, and after the war, he became the first African-American investigator for the Harris County D.A. He founded and helped establish the Houston Lawyers Association (the first organized Bar Association for African-American lawyers in Houston), the Harris County and Texas Councils of Voters, and the Texas Landowners Association. More ...