>
City Council
>
At-Large Position 4
> Staff
At-Large Position 4
Staff
Chief of Staff: Munira Bangee
The Chief of Staff Is the internal liaison between City Department Directors and the At-Large 4 Office.
Email: Munira.Bangee@houstontx.gov | Office: 832-393-3326 | Cell: 281.967.8382
Contact for:
City-related policy or legislation
Agenda items
Budget or budgetary amendments
Internal city business
Media interviews
Statement from Council Member Plummer
Deputy Chief of Staff: Veronica Xiloj
The Deputy Chief of Staff handles all special events, projects, and supports the Chief of Staff.
Email: veronica.xiloj@houstontx.gov | Office: 832-393-3321
Contact for:
Newsletters
Certificates of Appreciation
Welcome letters
Recommendation letters
Internship  opportunities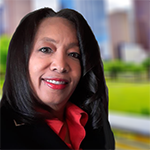 Director of Constituent Services: Cece Scott
The Director of Constituent Services is the external liaison between non-profit and private organizations for the At-Large 4 office and works to provide assistance and services to constituents in the City of Houston.
Email: CeCe.Scott@houstontx.gov | Office: 832-393-3323
Contact for:
Specific community programs
Specific community assistance
Executive Secretary: Katherine Washington
The Executive Secretary manages Council Member Plummer's calendar.
Email: Schedule a Meeting | Schedule an Event | Office: 832-393-3020
Interns
Our At-Large 4 office accepts interns from undergraduate and graduate programs throughout the year. Please email Veronica Xiloja copy of your resume: veronica.xiloj@houstontx.gov.
Social Media Channels