>
City Council
> District C
District C
Council Member Abbie Kamin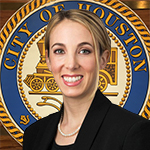 Abbie Kamin is proud to be a fourth-generation District C resident representing fifteen unique super neighborhoods, including: Greater Inwood, Central Northwest, Lazybrook/Timbergrove, Greater Heights, Washington Avenue Coalition/Memorial Park, Neartown/Montrose, University Place, Braeburn, Meyerland Area, Braeswood, Willow Meadows/Willow Bend, Midtown, Afton Oaks/River Oaks, Fourth Ward, and Greenway/Upper Kirby.
Born and raised in Houston, Council Member Kamin was part of the first graduating class of The Emery/Weiner School, going on to Tulane University and American University's Washington College of Law where she focused on government administration and civil rights. Prior to being elected to Houston City Council in 2019, Council Member Kamin advocated for our community at every level of government. As the Associate Regional Director of the Anti-Defamation League's Southwest Regional Office, she oversaw the region's civil rights programming, community partnerships, and incidents of hate reported by constituents. As the Committee Director and Clerk for the Texas House Human Services Committee, she fought for solutions to Texas' foster care crisis. The Council Member also served as a member of the Mayor's Commission Against Gun Violence, drafting proposals that focus on what the city can do immediately to ensure our community and schools are safe.
Council Member Kamin Chairs the Public Safety and Homeland Security Committee and is Vice Chair of the Quality of Life Committee. She is also a member of the following committees: Budget and Fiscal Affairs, Childhood and Youth, Economic Development and Ethics, Elections and Council Governance. More ...
Click images below for a full-sized version
District C Council Member Abbie Kamin, the City of Houston, and Pride Houston 365 will host Families With Pride, a free celebration of family and togetherness in District C's Levy Park (3801 Eastside St, Houston, TX 77098) on June 25, 2022 from 9:00 am to 1:00 pm!
In honor of Pride Month, and at the request of her constituents, Council Member Abbie Kamin is spearheading a celebration, which includes family-friendly interactive activities and music, Pride Library and storytime, splash pad, Pride Puppy Parade, face painting, a civil rights history walk, food trucks, and more. The Pride Puppy Parade will kick-off from Levy Dog Park at 12:30 pm!
The event will also include community partner support and resources for families to learn about, including from Legacy Community Health, Greater Houston LGBT Chambers of Commerce, Houston Public Libraries, Houston LGBTQ+ Political Caucus, and the Houston Health Department who will be on scene with opportunities for vaccinations, including COVID boosters for all ages, and more. There will also be performances by Kinetic Vibez, Carver Aldine Dance Company, DJ MoHawk, and the Orange Show with Chalk Stang Art Car.