>
City Council
>
District D
> About the Council Member
District D
About the Council Member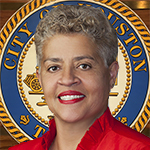 Welcome to the official page of Councilwoman Dr. Carolyn Evans-Shabazz, your representative for District D. As a native Houstonian from the historic "Third Ward, Texas," I am proud to serve our community and am committed to enhancing the quality of life for all our residents.
I am a proud graduate of Jack Yates Senior High School and went on to earn a Bachelor's degree in Political Science from Spelman College in Atlanta, Georgia. My educational journey continued at Texas Southern University, where I earned a Master's degree in Psychology and a PhD in Education. These experiences ignited my passion for addressing educational inequalities and fostering empowerment in underserved communities.
Before retiring from the Houston Independent School District in 2009, I had a fulfilling career as a teacher and a Lead Evaluation Specialist. These experiences have provided me with the insight and understanding needed to advocate for quality education in our district.
Throughout my career, I have been privileged to break barriers and pave the way for others. I had the honor of serving as the first African American woman to chair the Houston Community College System's Board, a role that allowed me to contribute to making education more accessible and equitable. As a member of the Executive Committee and 2nd Vice President of the NAACP-Houston Branch, I continue my advocacy for civil rights and equality. As a life member, I work diligently to ensure that the voices of our community are heard and our rights are upheld.
As your Councilwoman, I have championed significant legislative achievements, including the passage of an ordinance providing parental leave to all City of Houston employees and strengthening the enforcement of our sound ordinance. I am committed to providing information and seeking resources to enhance the quality of life in District D, believing that education is the key to changing the circumstances of entire families and reducing crime.
On a lighter note, don't be surprised if you hear me sing! Apart from my professional and academic accomplishments, I have an amazing secret talent—I love to sing! It's just one of the ways I like to connect with our District D community.
Beyond my public service, I am a realtor with over thirty years of experience in Houston, and a proud member of Alpha Kappa Alpha Sorority, Inc. and Wheeler Avenue Baptist Church. My family has a rich history in Texas—my grandfather was the first president of Prairie View University, and my parents, the late Edward B. "Doc" Evans and Catherine Williams Evans, were both educators in the Houston Independent School District. I am the second of five children, and am happily married to Malik Shabazz, a local landscape design business owner.
As your representative, I am here to listen, to act, and to ensure that your voice is not only heard but valued and acted upon. Thank you for entrusting me to represent you. Together, we can continue to make District D a place we are all proud to call home. Your concerns are my concerns, and your dreams for our district are the goals I strive to achieve. Let's keep making progress together.